Judge grants preliminary injunction citing 'Law 101'
By Linda Bentley | August 12, 2009
Ryan Ducharme, treasurer of the Political Action Committee Recall David Schwan, was granted a preliminary injunction on Monday afternoon ordering defendants to desist and refrain from interfering with Ducharmeís efforts to recall Carefree Mayor David Schwan.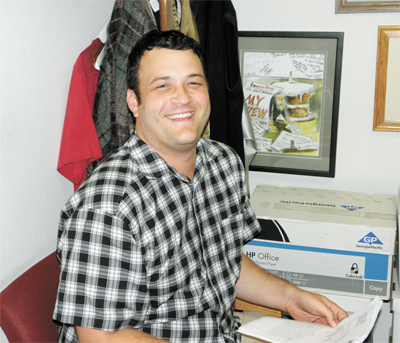 Defendants ordered to desist and refrain from interfering with recall efforts

CAREFREE – After obtaining emergency relief in the form of a temporary restraining order in July, Ryan Ducharme returned to Maricopa County Superior Court on Monday for a hearing on his motion for a preliminary injunction to prevent Ray Klemp, who owns the building which houses town hall and the post office in Carefree, from interfering with Ducharme's collection of recall petition signatures outside the building.

Political pressure from Schwan and Schwan's supporters had Doug Bittner, Klemp's building manager, contact the sheriff's office to force Ducharme to leave the premises or be cited for criminal trespass.

Ducharme's Attorney David Burnell Smith appeared telephonically, while Attorney David Bonifiglio waived the appearance of the defendants.

After a very brief hearing, Superior Court Judge J. Kenneth Magnum granted Ducharme's motion and called Ducharme's case a "slam dunk," citing the Supreme Court decision in Marsh v. Alabama was part of "Law 101."

Magnum ordered defendants to "desist and refrain from interfering with … Ducharme, his agents and employees in the orderly collection of signatures of a petition in the area directly in front of and immediately adjacent to the town hall and post office of the town of Carefree, Ariz. for the sole purpose of obtaining signatures and to campaign the recall of … Councilman David Schwan for the next election."

Attorney Clint Bolick, director of the Goldwater Institute's Scharf-Norton Center for Constitutional Litigation, previously weighed in on the matter in a letter to Town Attorney Tom Chenal expressing concerns about the town's "determination to not allow the campaign to post a 'Recall David Schwan' sign on the outside of a their private office space."

Citing the applicable section of the Carefree Zoning Ordinance, Bolick wrote, "As we understand it, the campaign's sign met all of the applicable requirements, but the town ordered its removal. Continued refusal to allow a sign would indicate selective enforcement of the ordinance."

Bolick said the town's actions appear to be "part of a pattern of practice of suppressing political expression generally and the campaign specifically."

Councilmen Bob Coady and Peter Koteas can attest to that pattern of practice.

When Coady was collecting signatures outside town hall for a ballot referendum to allow for direct election of Carefree's mayor, he was approached by Greg Gardner, the former building manager and former councilman, who asked him what he was doing.

Coady handed him a flyer explaining the referendum. Moments later, Bittner told Coady he had no right to be there.

After providing Bittner with a letter from his attorney explaining his constitutional right to be there collecting signatures, Coady said Bittner told him it wasn't good enough and he would have to leave or Bittner would call the sheriff.

And, apparently Bittner did call the sheriff. However, by the time the deputy arrived, Coady had already left for the day.

When Koteas was collecting signatures to run for council, he decided to first ask permission, which Bittner denied.

Bolick also pointed out in his letter the town's emergency provision, amending its ordinance to prohibit political signs in the public rights of way, while allowing the town to post signs in those spaces, directly infringes upon the First Amendment rights of individuals who want to express political opinion in a public forum.

On July 28, Chenal responded by stating he and the town "were surprised by the tone and content" of Bolick's letter and claimed "no effort was made in this case to contact the town to learn the facts before alleging that the town may be subject to a punitive damages claim."

Chenal asserted Ducharme had a banner that did not comply with the size regulations of the ordinance. He then stated the town was not involved in preventing Ducharme from collecting signatures at town hall but rather a Maricopa County sheriff's deputy taking action at the request of the owner of the property, which is leased by the town for its town hall.

Although Chenal failed to acknowledge Ducharme's subsequent application to obtain a permit for a correctly sized banner had also been denied by the town, he chastised Bolick for his "lack of investigation of the facts," which he said "needlessly caused an increase in the expenditures of the town's resources."

In closing, Chenal wrote, "We sincerely believe that was not your or Mr. Ducharme's intent and respectfully request that you contact me or the town should this letter not resolve your concerns."

Bolick touched base with Ducharme on Monday for an update on the banner/sign situation, only to learn Ducharme had still not received a permit for his banner.

Although it was merely a coincidence and not the result of further intervention on Bolick's part, Ducharme received a call from town hall shortly thereafter saying it had revisited his application and decided to grant the permit for a three-foot by five-foot banner on the front of the building to indicate where Recall David Schwan Headquarters is located.