Ruling allows signature collection at post office
By Curtis Riggs | July 29, 2009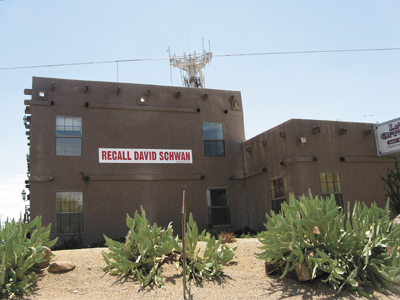 While signage issues are being worked out in Carefree the Recall David Schwan banner has been moved to Cave Creek.


Recall supporters speak out
CAREFREE – According to Recall David Schwan Treasurer Ryan Ducharme, Superior Court Judge Mangum approved a temporary restraining order on Tuesday, allowing him to resume collecting petition signatures at the Carefree Town Hall/Post Office on Wednesday.

Ducharme said the judge granted the TRO to avoid infringing on his First Amendment right to free speech. A hearing for a preliminary injunction is set for Aug. 10.

A rush of support late last week due to recent e-mails by Schwan supporters and hassles over recall headquarters signage add to the turmoil over the recall campaign.

Volunteers and potential recall signers descended on recall headquarters last week after Schwan and his political cohort Carefree Planning and Zoning Commissioner Lyn Hitchon both wrote letters in opposition to the recall through Hitchon's new political action committee, Carefree Truth.

"The David Schwan letter backfired because he didn't explain why people shouldn't sign the recall petitions and Lyn Hitchon's letter really upset a lot of people because it was so condescending," Ducharme said.

The number of people signing recall petitions climbed to 110 soon after the PAC letters came out. Ducharme has until Oct. 26 to collect 203 valid signatures of Carefree voters to force a March 2010 recall election of Schwan.

Ducharme is also battling Carefree Town Administrator Gary Neiss over the denial of his permit for a banner sign for recall headquarters on Monday. He has since placed a smaller sign in the window of recall headquarters and a sign near the road, which directs people to the recall headquarters.

Last week as Schwan and town officials attempted to thwart Ducharme's efforts to let people know where to sign recall petitions several new recall volunteers and petition signers became involved.

Recall volunteer Roberta O'Dwyer joined the recall effort after attending a few town council meetings. She didn't like how the meetings were run.

"There is too much of that going on in the United States right now," she said in reference to the suppression of citizen's constitutional rights to free speech.

She found many Carefree citizens share her views when she became a recall volunteer.

"People say 'Thank God, I never thought I would have an avenue to express my views,'" she said.

"A lot of people talk about the firing of Jeanette Summers and the primary election where Schwan finished last," she said, offering reasons many Carefree residents support the recall.

Thirty-four year Carefree resident Fred Deckard said, "I don't believe you can be lowest on the ballot and win."

Twelve-year Carefree resident June Barrick supports the recall because of fiscal mismanagement and flagrant spending by the previous town council.

"Who needs gas lamps downtown? I would like a fire hydrant in front of my house," she said. She added she wants an "economically savvy" council and to be able to elect her own mayor.