PAC files petitions to refer Walmart to voters
By Linda Bentley | July 22, 2009
CAVE CREEK – Dean Phillips, chair of PRIZE (Protect Residential Zoning and Environment) in support of REF 2009-03 and 2009-04, turned in petitions on Tuesday with nearly 250 signatures, double the number required (126), for each referendum to send Walmart's general plan amendment and rezoning to voters in November.

Town Clerk Carrie Dyrek delivered the petitions to Maricopa County Elections on Wednesday for signature verification. The county has 15 working days, not counting weekends or holidays, to validate the petitions.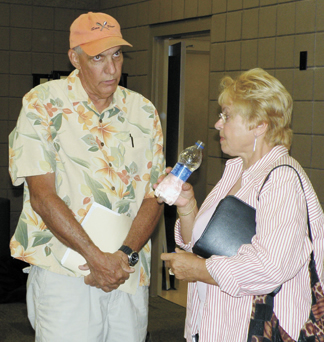 If the petitions contain at least 126 valid signatures, the referendum will be placed on the November ballot for voters to decide whether or not they are in favor of the general plan amendment and rezoning approved for Walmart to build a store just south of the 13-acre Bullington family's commercial parcel at the southeast corner of Cave Creek Road and Carefree Highway.

Maurie Widdows and Tom Whitt, who, like Phillips, live on Oleson Road, across from the proposed Walmart store, helped collect signatures for the referendums.

Dean Phillips, pictured with realtor Anneliese Goodwin at a Walmart community meeting in May, is chairman of PRIZE (two political action committees that joined) in support of REF 2009-03 and REF 2009-04, aimed at sending Walmart's general plan amendment and rezoning to voters in November.

Photo by Linda Bentley
However, Whitt purchased his home on Olesen in October 2008 with full knowledge Walmart had already purchased the 20 acres to the north five months earlier.
Phillips' son and daughter, Matthew and Jennifer Phillips helped collect signatures for the referendums along with Susan Natker, Chris Aepli, Rebecca Lester, Bill Wicevich, Janelle Smith-Haff, Dana Wiggin, Lynnette Gleitz Guinn and former Councilwoman Grace Meeth.
Half of the notaries didn't appear to know how to properly certificate the venue on the back of the petitions when notarizing the affidavits for the circulators.
Rather than indicating the state and county where the notarization took place, as prescribed by Chapter 3. Notarial Duties of the Arizona Notary Public Reference Manual (Steps to a Proper Notarization), half the notaries wrote in cities such as Cave Creek, Carefree, Phoenix and Scottsdale, instead of Maricopa County.
While there really isn't much to properly notarizing a document, stating a city instead of the county isn't going to toss the petition out.