Meet the Football Falcon seniors … Brady Dombrowski
By Pete Mohr | July 15, 2009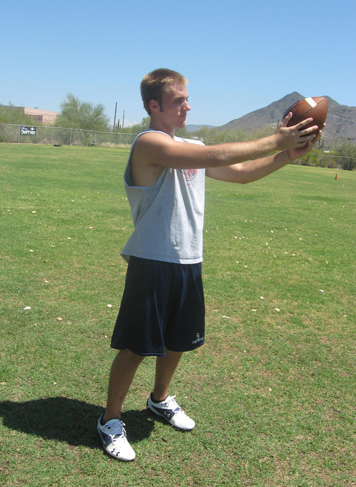 Wide Receiver Brady Dombrowski
The football in the accompanying photo, obviously posed, is in wide receiver Brady Dombrowski's capable hands. If the Falcons' Dare-by-Air offense is to be successful, quarterbacks Dillon Classen and Paul Welch will throw a lot of balls to Dombrowski and his fellow go-to receiver, Tommy Murphy.

"How does it feel to be one of the two go-to receivers?" Sonoran News asked. Brady was quick with his answer: "With Danny (Trittler) gone, it's a great opportunity for Tommy and me to step up and show our best. I have two personal goals: first, to make 1st Team All-Region wide receiver; and second, to play for NAU at that position."

And for the team? "Go deep in the State Playoffs. We seniors are committed to leading by example. We're closer. We've been together for four years, through all the ups-and-downs. You'll see us ready to sacrifice … more willing to pay whatever price it takes to win. There are already good vibes between us. We're going to hold each other accountable."

Brady, a native Arizonan and the son of north Phoenician Bob Dombrowski and Creeker Stacey DeGrazia, was born June 13, 1992. He's been in CCUSD since 3rd grade. He first played organized football in American Youth Football as a Sonoran Trails 8th grader. He's been a Football Falcon all four years at CSHS. Rostered as a wide receiver, he also expects to see "situational playing time" as a defensive back this season. In '08, at Cactus, he caught a touchdown pass for the Falcons' only six.

Brady is strong in the classroom too, posting a more than solid 3.7 GPA in honors-weighted classes. "School and football: those are what I do," he states pointedly. Continuing, "For me, playing football at Cactus Shadows means having pride for the team and our community."
You don't have to be an NFL scout to see that Brady, at 6'1", 185 lbs., has gotten bigger, faster and stronger. For the Falcons, count on his pride and quiet determination to do the rest, come Sept. 4 at (Vail) Cienega.