Recall effort has new headquarters
By Curtis Riggs | July 15, 2009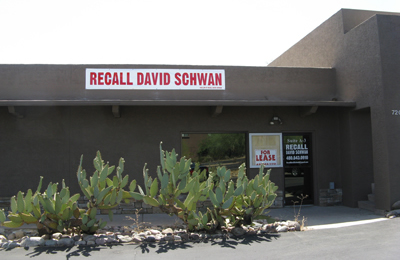 Response to ban from post office
CAREFREE – Recall David Schwan Treasurer Ryan Ducharme is citing an Alabama case in his efforts to begin collecting recall petition signatures at the Carefree Town Hall building.

Ducharme, who was ordered by sheriff's deputies to stop collecting signatures at the location last week, has received many calls and e-mails from citizens who were disturbed by his removal.

His attorney will soon file a request with the Superior Court for a temporary injunction, which would allow him to collect signatures in the facility parking lot.

In the meantime he has opened the Recall David Schwan headquarters at the northeast east corner of Tom Darlington and Ho roads where he and his 10 volunteers will continue their effort. Ducharme received an e-mail from town hall/post office property manager Doug Bitner earlier this week, which asked him to provide documentation which would classify the facility as a public building and "therefore be subject to complete access by the general public." Ducharme is citing a recent U.S. Supreme Court ruling in the Marsh V. Alabama case. The court ruled the more a property owner opens his business to the public in general the more his property rights are circumvented by the constitutional rights of the people invited on to the property.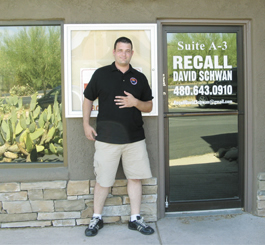 Ducharme attorney David Smith refers to other groups and individuals who are allowed to use the post office/town hall property while uses by Ducharme and others are restricted. "You can't allow one use and not another," Smith said when commenting on the potential for violating Ducharme's rights of free speech.

Fifty of the 203 valid Carefree voter signatures required by Oct. 26 have been collected. Ducharme plans to collect 400 to ensure the success of a recall election next spring.

He intends to set up appointments to meet with voters at the new recall headquarters and has vowed to go door to door to collect them if necessary. Ducharme will be at the headquarters most of the day on Friday, July 17 and Saturday, July 18. Volunteers will be working at the office on Tuesday, Thursday and Friday of next week. Ducharme urges people to call 480-643-0910 to make appointments to meet him at the office.

Top photo: The new 12- by 2-foot Recall David Schwan banner on a Tom Darlington office leaves little doubt ahout the location of the recall office.
Lower photo: Ryan Ducharme at the new location for Recall David Schwan.
Photos by Curtis Riggs