Everyone seems to have opinion about David Schwan recall
By Curtis Riggs | July 8, 2009
Volunteer thrown off town hall/post office property
CAREFREE – The Recall David Schwan campaign is creating excitement which helps offset the summer doldrums.

Many on their way to get their mail or conduct town business appear to enjoy sharing a few words with Recall David Schwan secretary/treasurer Ryan Ducharme as he collects signatures outside the post office/town hall building.

Ducharme, a Republican political consultant, was at the center of three battles in the parking lot outside the Easy Street facility at mid-day Monday.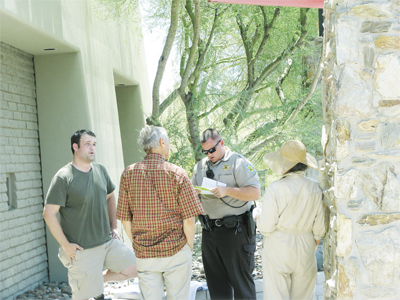 He was making good progress in collecting 203 signatures needed to force the recall until he found himself explaining his right to be there and the potential for violating his 1st and 14th Amendment rights to two Maricopa County Sheriff's deputies. He had collected nine signatures in the 45 minutes he had been there with three potential signers being turned away by the deputies.

One couple, turned away from signing the recall petitions, left in a huff.

A pro-Schwan supporter arguing with a petition signer also added to the post-holiday excitement.

The officers convinced Ducharme to move his signature collection away from the quasi-public facility because they were asked to do so by property manager Doug Bittner.
Ducharme's attorney is in process filing a temporary injunction with the Superior Court which would allow him to continue collecting signatures on the property. A permanent injunction filing will follow.

Ducharme said the incident will only serve to make him and his eight volunteers work harder to get the recall question on the spring 2010 election ballot.

"All this will do is galvanize me and my people more," he said, adding Schwan evidently decided to act on last week's promise of making Ducharme "famous."

Former longtime Councilman Greg Gardner visited Ducharme just before the police arrived and left with a recall flyer.

Ducharme has set a late September deadline for collecting 400 signatures to ensure having the required 203 valid signatures. "This was clearly done to stall our progress," he said.

"It's very doable," Ducharme said about running a successful recall effort. "It's just a matter of how soon it will be done."

"Some people are upset. They feel that David Schwan shouldn't be their mayor," he said about the feelings of many of the voters he encounters during his efforts.

He vows to go door to door to collect signatures if necessary.

He asks Carefree residents wanting to sign petitions or people wanting to help out with the effort to e-mail him at recalldavidschwan@gmail.com or call 480-643-0910.

Schwan calls the recall effort, "frivolous, partial misstatements of fact and damnable lies."


Photo: A Maricopa County Sheriff's deputy issued Recall David Schwan's Ryan Ducharme (l) a warning for collecting signatures at the Carefree Town Hall/Post Office on Monday.
Photo by Curtis Riggs