Business on Easy Street not so easy this summer
By Curtis Riggs | July 8, 2009
Vacancies spike as uncertainty continues
CAREFREE – The number of out of business, for sale and retirement sale signs on Easy Street buildings serve as evidence of how rough the current recession has been on local merchants and property owners.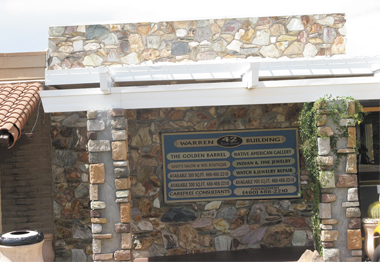 Downtown landlord Rod de Szendeffy recently lost four of the six tenants in the Warren Building.

De Szendeffy questions why people keep opening tourist-based businesses when Carefree has been shifting away from a tourist-based economy for many years.

"A quick walk up Easy Street or inquiries to those shops will tell you that all are hurting badly and many are saying they are going to close," he said, adding some of the vacancies are due to the annual summer slowdown.

Carefree Town Councilman Doug Stavoe, who is both a downtown businessman and property owner, said some of the closures are packaged as retirement sales or other events as was the case with Amano Folk Art.

Stavoe will close his coffeehouse this summer to be able to spend some time with his daughter who is going away to college this fall, when he intends to reopen Blue Sky under a different theme.

"It's definitely a challenging time for the heart of Carefree and for sales tax revenue for the town," he said.

Ironically, the Town of Carefree is also now a part of the bleak downtown business district. The Carefree Town Council voted to purchase the Eight Sundial Circle building in December of 2008 as a future home for town hall or the Carefree Municipal Court. Within six months of the purchase the town lost the revenue from the tenant it hoped would help cover loan payments on the building. This leaves the cash-strapped town council scrambling to find a proper use for the building.


Palm Desert Realty owner Harry Vardakis estimates there is a 65-70 percent vacancy rate in downtown Carefree.

He suggests the town should tear down the Eight Sundial Building and construct a new building for the town hall and court.

"The land has more value without the building," he said. "You can't get it to cash flow the way the building is designed."

Also causing concern about the Eight Sundial building is the attractive lease the town has on the present town hall, which still has 12 years remaining.

Adding concern to future economic viability of downtown is Ed Lewis, the developer behind the mixed-use $90 million Easy Street project, intends to hold off on breaking ground for the retail/condominium venture until the economy turns around.

Wild Holly Gallery owner Holly Bergman has her building at the east end of Easy Street for sale. She has had a very steady business along Easy Street for many years.

Top photo: Four of the six Warren Building tenants have left Carefree because of the economic slowdown.
Lower photo: Amano Folk Art is one of the many Easy Street shops which has closed its doors this year.
Photos by Curtis Riggs