Activist calls Walmart supporters shameful, pimps and apologists

By Linda Bentley | July 1, 2009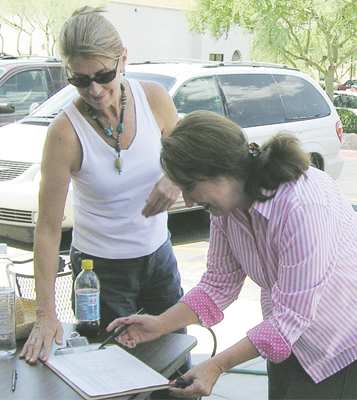 Jayne Carroll (l), pictured here collecting signatures for a referendum in 2004, has accused Walmart of bribery and a local business owner, along with other members of the community, of accepting bribes to "pimp for them."

Photo by Linda Bentley
Flawed 'Aha' moment triggers e-mails rife with groundless accusations
CAVE CREEK – Last Wednesday evening, Jayne Carroll, a local real estate agent and activist, fired off a nasty e-mail to the entire council, addressed to Mayor Vincent Francia.
Carroll wrote, "You don't have any shame, do you? Lauding Todd Newman … for the open space concert benefit he hosted … Why didn't you give thanks where it was due, to the primary benefactor, Walmart? I had to read … that Walmart donated $1,250 to make that benefit possible … Reading the online
Sonoran News
today, I had my 'Aha' moment."
Carroll closed with, "Is there any public official, civic and arts program or retailer in town who is above posturing to Walmart's perennial deep pockets? Shame on all of you."
Francia replied, "The two concerts hosted at C4 on Saturday, June 20, for the purpose of raising money for the purchase of preserved open space … had no involvement with Walmart, financially or otherwise. Francia then reiterated, in bold face type, Walmart had no involvement, whatsoever, with C4's fundraising efforts, as criticized in Carroll's e-mail.
Explaining the benefit concerts were initiated by C4 owner Todd Newman, his wife Rose and C4 staff, Francia said the musicians, sound people and poster artists all donated their time.
He said about $800, raised through ticket sales was all donated towards the purchase of open space.
Francia stated, "Praise is in order, not condemnation," and signed off with, "The shame be on you, Ms. Carroll."
Carroll wrote back, "Oh you're good, Mayor Vincent. "I'll bet you were sweating a bit while you researched that bit of info, weren't you? You wouldn't have even responded to my e-mail if I didn't hit a sore spot in your sanctimonious support of all things Walmart … waving the open spaces banner as the cover for letting citizens of Cave Creek down on your promise … to protect every one of us … from the encroachment of big box commercialization …"
Carroll insisted it was Walmart's modus operandi to provide cash to financially strapped local businesses, arts and civic groups in the form of "donations" to get the "local populace to pimp for them."
Carroll said, "Todd's cheerleading display at the council meeting and his subsequent hosting of a fundraiser for a cause … is stacked with Walmart apologists ..."
Although out of the country, Newman weighed in on Friday with an e-mail to Carroll. He told Carroll her accusation was "absolutely false," emphasizing, "the reason Walmart wasn't mentioned was because they weren't involved."
Newman "expects an explanation from Carroll as to why she would fabricate lies about two people who have done her no harm."
Newman wrote, "How dare you insult my wife and I who put blood, sweat and tears into running a business in this town?" and concluded, "It is this kind of lie and ugly, nasty behavior that drives hard working people out of business."
An article by Curtis Riggs in last week's edition of
Sonoran News
titled, "Walmart winning new friends in town," which covered the Cave Creek Merchants' Chamber of Commerce meeting where Walmart representatives made a presentation may have contributed Carroll's "Aha" moment.
Riggs mentioned the $40,000 donation Walmart made to the Cave Creek Film & Art Festival and said, "Town Manager Usama Abujbarah said he hopes any future contributions Walmart makes to Cave Creek will be for the preservation of 4,000 acres for open space." He noted Walmart had already funded a $1,250 open space kickoff event.
Citing Abujbarah has no concerns about potential conflicts of interest, Riggs then incorrectly stated it was "because the rezoning needed for the Walmart took place before Walmart began making contributions."
Walmart did donate $1,250 towards the April open space fundraising kickoff event at Cave Creek Regional Park. However, the second reading passing the rezoning ordinance for Walmart was approved last week.