Francia: open-space effort just like Spur Cross Ranch
By Curtis Riggs | June 24, 2009
Pleased Baier slated for State Land Commissioner
CAVE CREEK - Long-term Mayor Vincent Francia has long been confident about the success of the pending acquisition of 4,000 acres of State Trust Land for open space.

His confidence was bolstered last week by the appointment of Phoenix City Councilwoman Maria Baier to be the next State Land Commissioner.

Francia is happy Baier is set to be the new Land Commissioner because she was heavily involved, as was Francia, in the preservation of Spur Cross Ranch when she was Gov. Jane D. Hull's environmental point person nearly a decade ago.

The mayor talked about the need for State Trust Land reform at the open-space benefit concert at the Cave Creek Coffee Company on Saturday. He sees Baier as being instrumental to Trust Land reform, which has been desired by many Arizonans for years but has never made it out of the Arizona Legislature, or passed by voters.

"We need to take this a step further than the annexation," he said about how Cave Creek will acquire the property. "We need comprehensive Trust Land reform."

He cites there being "no boiler plate" to Cave Creek's acquisition effort, which other communities can use when stressing the need to reform how communities preserve Arizona's open spaces.

"They can't take what we are doing and just do it," he said about annexation requirements such as already having State Trust Land available inside a town's borders in the first place.
Francia is also pleased with the way preservation-minded Cave Creekers are embracing the latest acquisition effort much the same way it did the Preserve Spur Cross movement in the late 1990s.

"Spur Cross Ranch was very grassroots," he said about how Creekers banded together to raise awareness about the preservation and ultimately taxed themselves to pull it off by overwhelmingly approving a $6.3-million bond for the purchase.

"What C-4 is doing to raise money is also very grassroots," he said when comparing the two preservation efforts.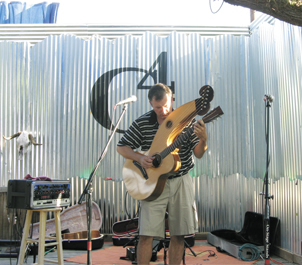 Over $2,000 was raised at two C-4 concerts on Saturday. The way that C-4 manager Teresa Thompson figures it this will be enough to purchase two and a half acres of the land.

"We feel good about it. Every little bit counts," she said about C-4's contribution to the community effort.

She feels the awareness about the attempt to raise $5.5 million for the acquisition on Saturday was nearly as important as the money, which was raised.

"We really got the word out on Saturday.," she said. "More people are now aware of what is happening and what they can do to help."

Top photo: Cave Creek Mayor Vince Francia
Lower Photo: Bill Dutcher playing the harp guitar at the recent fundraiser concerts held at Cave Creek Coffee Company.
Photos by Curtis Riggs