Danny Wise rearrested, held on $500,000 cash-only bond
By Linda Bentley | May 27, 2009
Grand jury indictment on 13 counts of fraud and theft charges
SCOTTSDALE – Danny Wise, 52, the former Scottsdale CPA implicated in what appears to be a complicated Ponzi scheme that has defrauded at least 125 investors in 13 states out of as much as $80 million, was rearrested at his Desert Mountain home early Friday morning by Scottsdale police officers after a grand jury warrant was issued for his arrest on Thursday with a cash-only bond amount set at $500,000.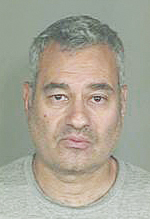 Wise was booked into the Lower Buckeye Jail on a total of 13 counts of theft/control of property, a class 2 felony, and fraudulent schemes and practices/willful concealment, a class 5 felony.

He was initially arrested on April 15 when Scottsdale detectives, along with several federal law enforcement agencies served search warrants on Wise's Scottsdale home, business and storage facility but released him on his own recognizance as they collected evidence and the investigation continued.

Although the bankruptcy court, in an involuntary action filed against Wise in early November, ordered Wise to turnover to Maureen Gaughan, the trustee, all property of the estate that was not claimed as exempt or property of third parties, Gaughan has since filed a motion seeking all property of the estate be turned over, stating she would be willing to hold the property claimed as exempt or properties of third parties in trust pending further orders of the court resolving any exemption issues.

Gaughan explained that shortly after she was appointed to the case, her auctioneer inventoried the property located in Wise's Scottsdale office, his Scottsdale residence and his Flagstaff property.

At the Scottsdale home, the auctioneer was shown certain jewelry identified in Gaughan's motion.

However, in April when Wise was initially arrested, as detectives searched for evidence at his Scottsdale home they discovered what they believed to be approximately $150,000 in jewelry in the dust bin of the home's central vacuum system.

The jewelry was neither listed on Wise's bankruptcy schedules, nor was it disclosed to Gaughan or her auctioneer.

In March, the court also directed Wise to turnover to the trustee all hard copies of any and all business and/or financial files and records that were not claimed as privileged.

Again, when detectives searched the home for evidence, they seized numerous hard copies of business and financial records that were not disclosed to the trustee and were not listed as privileged in the privilege log Wise provided.

Gaughan said Wise was attempting to obtain property of the estate after the appointment of the trustee without authority of the court or trustee.

She said Wise had also attempted to collect past due invoices from clients, as evidenced by mail returned as undeliverable. All were postmarked subsequent to the appointment of the trustee.

And, while Gaughan demanded Wise provide information concerning the invoices and turnover of any monies he received from clients, she said Wise has not complied.

In her motion, Gaughan states, "Given the track record of the debtors in the short time the trustee has been appointed in this case, the trustee believes that it is in the best interest of the creditors of the estate that all property of the debtors be turned over to the trustee," agreeing to hold in trust all property claimed as exempt or that of third parties.

Last week, Wise's Attorney Andrea Palmer filed a motion to withdraw from the case and filed a list of property Wise claims is either owned by third parties or is held by him on behalf of third parties.

The list claims certain jewelry, including an Armani men's watch and a Gauthier tie pin is property either gifted to or brought into the marriage by his wife Cynthia.
It also claims a set of golf clubs, Roberto Duran memorabilia, boxing gloves, sports jerseys, baseballs and an autographed basketball all belong to his son Jeremy, who is away at college.

Wise claims the juke box, slot machine, a number of posters and other items belong to his deceased brother, which he claims to be holding on behalf of his brother's kids.
Also listed are two homes in California, one in Bel Air and one in Encino, both of which Wise admits are in his name but are actually owned by California Attorney Frederick Jelin, who will be appearing in Los Angeles Superior Court on June 22 for the "conviction" phase of a complaint filed against him.

Wise added a note stating: "I have NO personal property at either of these properties. Since I've had these properties, I've never seen them."

Compass Bank, which holds the first and second mortgages for the Wises' Desert Mountain home along with two other loans, one in the amount of $300,000 for the stated purpose of purchasing artwork at an estate sale, is still seeking relief from the stay and is scheduled for a hearing this week.

However, Wise's property lists do not mention artwork.

In the interim, a number of federal agencies continue their investigation to unravel Wise's Ponzi scheme, while the current charges pending against Wise appear to be related to his theft of money paid to him as a CPA for the purpose of paying clients' income taxes.