Elias Bermudez – doctor, lawyer, notary and busboy?

By Linda Bentley | May 20, 2009
In January 1996, Bermudez was convicted of conspiracy to launder monetary instruments and sentenced to 18 months in prison

PHOENIX – In March 2008, the State Bar of Arizona filed a complaint against illegal migration advocate Elias Bermudez and his organizations Centro de Ayuda (Help Center) and Inmigrantes Sin Fronteras (Immigrants Without Borders) claiming he was engaging in the unauthorized practice of law.

In April 2008, the state bar filed an amended complaint detailing the facts which formed the basis of that claim.

In an October 2008 Catholic News Service article, Bermudez boasted, "I've been helping people become naturalized citizens for 15 years," as director of Immigrants Without Borders in Phoenix, which helped run the naturalization and voter registration campaign in Arizona.

In February 2009, the state bar filed a motion for summary judgment, which was granted on April 27 by Maricopa County Superior Court Judge J. Kenneth Magnum, ordering Bermudez, Centro de Ayuda and Inmigrantes Sin Fronteras "permanently enjoined from engaging in those activities which constitute the practice of law," listing in lengthy detail what Bermudez is precluded from doing.

Magnum further ordered Bermudez to notify existing customers, opposing counsel or opposing parties … of such sanctions; return all documents or other property in pending matters to customers; and cease use of any reference to titles or descriptions prohibited in the order or judgment on all advertising, business cards and letterhead.

Bermudez was also ordered to pay restitution to two clients totaling $2,525 along with costs totaling $261.25 payable to the State Bar of Arizona.

Additionally, Magnum ordered that Bermudez "shall remain subject to the jurisdiction of this court with respect to unauthorized practice of law matters."

While the court made it clear Bermudez may not pass himself off as a lawyer, there's a recent undated video on AOL, attributed to mylatinonews.com (http://video.aol.com/video-detail/mylatinonewscom-dr-elias-bermudez/753876587), featuring "Dr. Elias Bermudez" from Immigrants Without Borders speaking at the Los Angeles Sheraton.

The video description says: "Listen as Dr. Bermudez discusses some of the political attacks on immigrants that are taking place in Arizona."

Bermudez begins with, "I am a person who came to Los Angeles – East Los Angeles – in 1967 as an undocumented person and raised (sic) through the ranks and did everything I had to do – became a permanent resident by marrying a beautiful U.S. citizen and then becaming (sic), becoming, a U.S. citizen and elected to public office, actually, two weeks prior to me receiving certificate of citizenship."

Bermudez served on the San Luis, Ariz. City Council, located in southwest Yuma County across the border from Mexico, from 1982 to 1984.

The video concludes with Bermudez saying, "We didn't come here for the scenery. We didn't come here for your beautiful beaches and your beautiful woman (sic). We came here because you invited us. Every time you allow me to bus your table, every time you allow me to fix your bed, you are inviting me to come to work. Now, just recognize the fact and give me a document so I can be here freely as you are."

Bermudez isn't a doctor or a lawyer and there's no evidence he ever bused tables or made beds.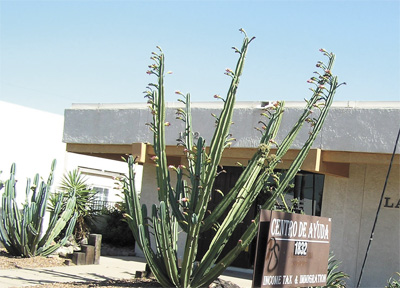 In the early to mid 1990s Bermudez was the executive director of Centro de Progreso (Progress Center), a family business in San Luis, which was repeatedly sued for exploiting farmworkers under the Fair Labor Standards Act.

One case resulted in the court awarding the plaintiffs $4,000 plus costs, $500 was awarded in another case and $6,487.60 plus $3,365 in attorney fees was awarded in yet another case, entered as a default judgment against Bermudez, who was in prison at the time and unable to appear.

In 1994 Bermudez was indicted on ten counts of conspiracy to manufacture, distribute and possess with intent to distribute methamphetamine, aiding and abetting, and laundering of monetary instruments, for his participation in another family business involving the manufacture and smuggling of methamphetamine from Mexico into the United States for distribution and sales.

In January 1996, Bermudez was convicted of conspiracy to launder monetary instruments and sentenced to 18 months in federal prison, followed by three years supervised release.
Shortly after a new law went into effect in July 2003, requiring all individuals and businesses preparing legal documents without the supervision of an attorney to become certified as Legal Document Preparers, a certification issued to non-attorneys in Arizona who provide document preparation assistance and services to individuals and entities not represented by an attorney, Bermudez applied.

He was turned down, however, due to his felony conviction.

Prior to his conviction, Bermudez was a notary public in Yuma County.

However, unless rights have been restored, felons are precluded from becoming notaries.
Curiously, Bermudez was commissioned as a notary in Maricopa County in February 2001 anyway and granted a renewal in February 2005.

While Bermudez claims he "openly provided" information about his felony conviction when he applied, Joann Cota, acting director of the Arizona Secretary of State's Business Services Division, which appoints notaries, said, "Upon review of his notary application, it appears Mr. Bermudez did not disclose that he was convicted of a felony."

Cota said, "Question number one on the Notary Public Application," which was signed by Bermudez before a notary under penalty of perjury, reads; "Have you ever been convicted of a felony or a lesser offense … that is incompatible with the duties of a notary public?" Bermudez placed an "X" in the "NO" column next to that question.

Even though it appears Bermudez violated several notary laws, because his commission expired on Jan. 31, 2009 and he did not apply for renewal, Cota said the Secretary cannot take action on a commission that is not current. However, she added, should he decide to apply for reappointment, "this investigation will be considered."

Photos: Elias Bermudez, dba Inmigrantes Sin Fronteras (Immigrants without Borders) and Centro de Ayuda (Help Center) on Thomas Road, were permanently enjoined last month by Superior Court Judge J. Kenneth Magnum from engaging in any activities which constitute the practice of law.