Vanik beats write-in candidate Traynor by 11 votes
By Curtis Riggs | May 22, 2009
Koteas garners 863 votes
CAREFREE – While most of the surprises about this year's town council elections took place a couple of months ago, the official results from the May 19 election held a few more when they were released on Friday.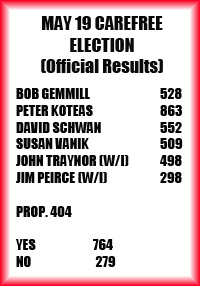 Write-in candidate John Traynor finished just 11 votes behind new councilwoman Susan Vanik, according to the official results. Traynor received 498 votes to first-time candidate Vanik's 509. Write-in candidate Jim Peirce received 298 votes.

The official May 19 vote tally could still be considered unofficial until the Carefree Town Council canvasses the vote at a 5 p.m. meeting on Wednesday, May 27, however.

The new Carefree Town Council, which will consist of council incumbents Bob Coady, Bob Gemmill, Glenn Miller, David Schwan and first-time challengers Vanik, Peter Koteas and Doug Stavoe will be seated on June 2.

Koteas out-distanced the rest of the field on May 19 by 311 votes, with a total of 863.
Schwan came in second with 552 votes, Gemmill was at 529 and Vanik received 509.

Coady, who was elected along with Miller and Stavoe in the March 10 primary, said Koteas' numbers and the 796 votes cast for the write-in candidates show "people in Carefree really want a change."

Despite receiving 498 write-in votes, Traynor, who decided to run as a write-in after three council incumbents withdrew from the race after a poor showing in March, said he was "very disappointed" by losing to Vanik by 11 votes.

"I thought that even as a write-in candidate I had a good chance of getting the opportunity to serve the people of Carefree," he said on Friday morning.

Coady was also pleased with the official numbers because his Prop. 404, which calls for Carefree citizens to begin directly electing their mayor in 2011, was approved by a 73-percent margin. Voters supported Prop. 404 764 votes to 279.

"I am happy and proud people in Carefree stood up for Prop. 404," he said. "The people have spoken about wanting more participation in town government in Carefree.