Local Science Fair leads to big wins
May 13, 2009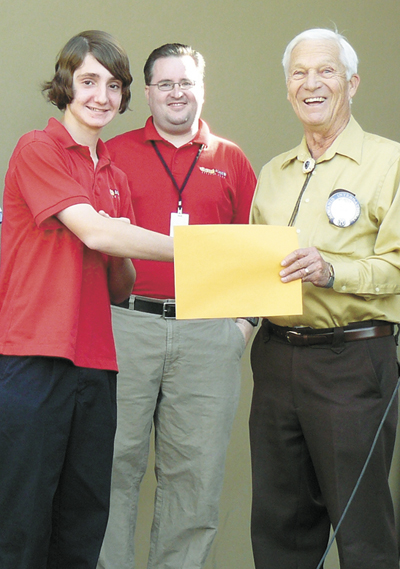 This year, the Kiwanis Science Education Committee sponsored the 4th annual Kiwanis Community Science Fair, with over 3,200 local students in grades K-12 participating. This fair has led to bigger and better things for some of the winners who went on to compete in a bigger arena, the Arizona Science and Engineering Fair (AZSEF).

John Manos, a 9th grade student at Foothills Academy, won a Bronze Medal (the best prize earned at his school) in the local fair with his project Wireless Electricity, which was recommended by Kiwanis for the AZSEF. John competed with this project in the state fair and earned the Nickel Award (4th Place) in the Electrical and Mechanical Engineering category in March 2009. His teacher at Foothills Academy is Jared Copeland.

In addition, John was recently announced to be the 2009 winner of the prestigious Grand Canyon University $2,500 scholarship, the top award for the high school winners of the local Kiwanis Community Science Fair. John was selected from the top five winners. All high school students in the CCUSD were eligible to enter the fair and compete in the science fair.

This scholarship gives John the opportunity to complete college freshman courses online or on campus while still in high school.

Another local student, 8th-grader Krystal Ann Wood of Ventana Academy, entered the statewide AZSEF and won a Silver Medal (2nd Place) in the Chemistry Category for her project Color Chromatography, against some heavy competition. She had won the top prize for all grades at her school in the local science fair this spring, and was recommended by Kiwanis to go to AZSEF. Her teacher at Ventana Academy is Debra Little.

These big wins for local students in the AZSEF confirm an exciting trend for participants in the local Kiwanis Community Science Fair. In March 2008, a trio of boys from Cactus Shadows High School competed in the Arizona Science and Engineering Fair (AZSEF) and won a Silver Medal (2nd Place). This team, Mitchell Lyons, Alex Walsh and Ian DelGrosso, had also won a Silver Medal in the 9th Grade competition at the local Kiwanis Science Fair. Their project was Some Like It Hot , about growth of Brine Shrimp at various temperatures. Their teacher at CSHS was Retta Ward.

In earlier years, local students had submitted projects to the AZSEF but did not receive awards.

To encourage persistence in entering fairs and high project quality, the Kiwanis Science Committee is announcing a new series of prizes aimed at recognizing repeat winners of medals for 2 or more years. For students winning medals in three or more years, a cash prize will be given in addition to a certificate. This award is being given for this spring's fair, with three students who are Triple Winners receiving the prize. The winners list will be publicized and the prizes will be delivered within the next 2 weeks.

Courtesy Photo: John Manos (left) accepting his scholarship from Burt Lundquist, while Manos' Science teacher, Jared Copeland, looks on.