Stevens Clean-Up's building reflects "All that is Cave Creek"
By Curtis Riggs | May 13, 2009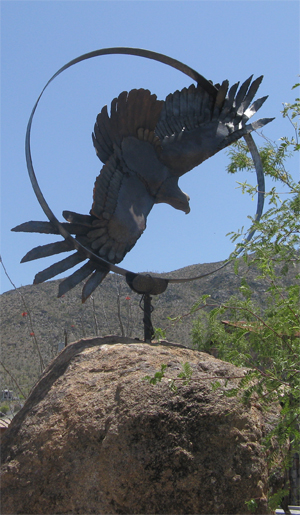 New center built by locals for locals
CAVE CREEK – Local businessman John Stevens decided to mix use of local materials and local builders with the "desire to reflect all that is Cave Creek" at his new 7,000-square-foot Silver Sky Plaza building which is the headquarters for his Stevens Clean-Up's business. Silver Sky Plaza is located on the southeast corner of the intersection of Surrey and Cave Creek Road.

The 22-year business owner focused on establishing a center where builders and contractors could meet. He has a bulletin board where Cave Creek contractors can post their information.

Cave Creek sculptor Michael D'Ambrosi created the "Red-tail" sculpture in the front garden. Stevens Clean-Up's crews did the landscaping of the property and other improvements.

Howard Bertram of Bertram Graphics did the signage for the center and the folks at Let There Be Light installed the exterior lighting.

Finished toward the end of 2008, the center holds the potential for five 1,100-square-foot suites, or fewer larger suites, depending upon the needs of the business.

"We hope local Cave Creek residents will use local contractors in these economic times," Stevens said. His desire is for the new center to be a one-stop location for all building needs. The idea is for commercial and residential related service and product businesses to make their home at Silver Sky Plaza – an architect, an interior decorator, a solar company, a pool builder, and window, spa and appliance companies would fit the vision Stevens has for the center.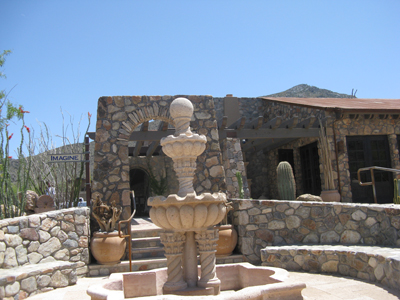 Stevens Clean Up's representative Brian Lervold points out the premise behind the quality workmanship at the new headquarters is "doing it right the first time and making sure it will not go anywhere."

"The fact it is done right the first time outweighs that it took longer and cost more," Lervold said. Stevens designed the center and was on-site during construction. His philosophy toward quality led to the beautiful finished product.

The beauty of the center is enhanced with the use of Cantera stone from Mexico on the floor and a chandelier, which is also from Mexico. The building walls are made from the excess wall stone at D.C. Ranch in north Scottsdale.

Stevens Clean-Up's specializes in landscaping needs, property clean-ups and clearing defensible spaces around homes for fire protection. Free estimates are available by calling 480-488-4086.

For information about locating your building related company at Silver Sky Plaza, contact Arlie with Prudential American Real Estate at 480-452-5980.

Photos by Curtis Riggs