Obituary



Daryle R. Stuckey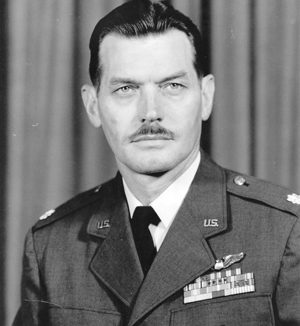 Longtime Cave Creek resident Daryle R. "Jack" Stuckey died at his home on Thursday, April 30, 2009. He was 86.

He was born on May 10, 1922 near Sycamore, Ohio to the late Raymond and Lela (Lee) Stuckey.

Jack married Josephine Ann "JoAnn" Stuckey in New Orleans in 1966.

He attended Heidelberg College in Tiffin, Ohio before World War II broke out. He was a B-17 pilot on a combat aircrew near Italy in 1944. He spent the last nine months of the war in various prisoner of war camps throughout Europe.

After World War II he received a Bachelor of Arts degree from Western Reserve University in Cleveland and cleared to practice law in Ohio in 1950. He was recalled to active duty with the Air Force in 1951 and served in Japan and Korea during the Korean War. He completed 20 years of active service and seven years of reserve service in 1969, retiring with the rank of Lieutenant Colonel.

He was a member of Cave Creek American Legion Post 34 and the Veterans of Foreign War (VFW) groups.

He and JoAnn traveled extensively in Europe, Mexico and Brazil. He also enjoyed reading and restoring older homes.

Graveside services were held in Sycamore, Ohio on May 5, 2009.

Memorial donations may be directed to the Cave Creek Museum, P.O. Box 1, Cave Creek, AZ., 85327 or the charity of one's choice.