Mayor tickled pink over 3.489 percent interest rate
By Linda Bentley | April 29, 2009
Low interest rate plus stimulus funding, good news during bad times
CAVE CREEK – When town council voted last November to move forward with building a new $22.9 million wastewater treatment plant, they were only provided with an estimate of what interest rates might be from the Water Infrastructure Finance Authority of Arizona (WIFA).

Last Thursday, when the WIFA loan documents were delivered for signing, the interest rate was locked in at 3.489 percent, significantly lower than the town originally estimated.

Town Manager Usama Abujbarah calculated the savings from the lower rate to be approximately $8 million over the 20-year life of the loan.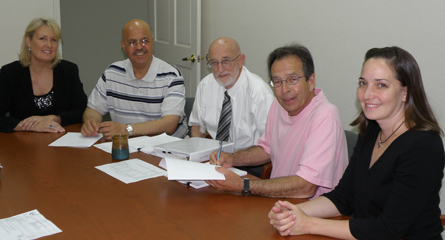 sMore good news came by way of the town being approved for $2 million in stimulus funds toward the project.

That means the town will have $2 million forgiven from the WIFA loan, reducing the amount financed to $20.9 million.

As with all federal funding though, there is a caveat, which includes Davis-Bacon wage and reporting requirements.

According to Utilities Manager Jessica Marlow, when she learned the town would receive stimulus funding, the contractor recalculated the labor costs, which she said did increase a little. However, she said equipment costs had gone down and overall the contract ended up being about $700,000 less, including the Davis-Bacon wage requirements.

The town's first principal payment on the loan won't be due until 2011.

Marlow expects the new plant to be finished around September, which is when the dismantling of the old plant will begin. She anticipates the entire project to be completed before the end of the year.

Town Attorney Fred Rosenfeld explained each of the contract sections as Mayor Vincent Francia signed the WIFA documents and said the first three monthly draws and part of the fourth will take care of the stimulus money, which will be applied toward the principal first, resulting in no interest obligations on that $2 million.

Photo: Town Clerk Carrie Dyrek (from left), Town Manager Usama Abujbarah, Town Attorney Fred Rosenfeld, Mayor Vincent Francia and Utilities Manager Jessica Marlow gathered Thursday morning for the signing of the Water Infrastructure Finance Authority of Arizona (WIFA) loan documents to build the new $22.9 million wastewater treatment plant.
Photo by Linda Bentley