Community garden with a broader vision
By Linda Bentley | April 22, 2009
New PVCC to open for classes in August
CAVE CREEK – Mayor Vincent Francia announced the success of Saturday's open space fundraising kick-off event during Monday night's council meeting by crediting the "tremendous spirit of volunteerism" in Cave Creek and all the volunteers who made the event, which raised close to $9,000, a success.

Francia said the town has received, in addition to the $10,000 recently donated by the Allred family, another $10,000 anonymous donation.

According to Associate Planner and Trails Coordinator Bambi Muller, donations now top $30,000.

The mayor then announced the birthdays of Kim Brennan and Dick Esser, to which Town Marshal Adam Stein responded with a candle-adorned cupcake for each.

During Call to the Public, council candidate Adam Trenk invited the public to attend a meeting next Monday in the council chambers at 7 p.m. where Trenk said he will be sharing his platform, thoughts and ideas.

Council then unanimously approved the second reading of an ordinance, amending the town's tax code by deleting a section to eliminate the offset to the privilege tax for utility services collected and allow the town to keep the entire amount, the only action item on the general agenda.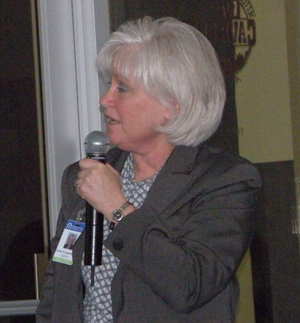 The other two items were presentations, the first by Paradise Valley Community College (PVCC) Dean Denise A. Digianfilippo, who explained the new PVCC at Black Mountain facility currently under construction along 60th Street just south of Carefree Highway is in partnership with the Foothills Community Foundation, Valley of the Sun YMCA and PVCC, which will share the campus.

PVCC's main campus on 32nd Street has approximately 9,100 students enrolled and, according to Digianfilippo, PVCC expects to serve about 1,000 students initially at the new campus, which will offer both credit and non-credit classes.

She said the new campus would be open for classes in August and the course schedule will be available online shortly at www.pvc.maricopa.edu/pvccblackmountain/.

Digianfilippo also said PVCC has an additional 75 acres it can use to expand the campus as needed.

Because of the bad economy, universities have had to raise tuition, which Digianfilippo says has created more of a demand for students to enroll in community colleges.

During public comment, John Ford said he was "excited that the community college is moving up here."

Jennie Cure' made the next presentation about the proposed community garden on the 85-acre site where the new wastewater treatment plant will be situated.

According to Francia, when the green committee was formed, Cure' was on the subcommittee to come up with a plan for the community garden.

He said when he toured the site with Cure', he noted all the piles of debris and rubble, which he assumed would all need to be removed.

However, Francia said Cure' looked at those same piles and explained uses for them to be incorporated into various areas of the community garden, which Cure' explained was a very comprehensive plan.

Cure' said the plan called for filling in a two-acre pit that would create a pond with plans for restoration of some riparian areas and the re-creation of a mesquite bosque.

According to Cure', there are a number of organizations interested in the site, including the Audubon Society, Farm Bureau, 4-H and the zoo.

She said they are trying to incorporate the garden into a youth program with rainwater harvesting, living classrooms and basically called the project an education center.

"The water is key," said Cure', who stated the effluent from the wastewater treatment plant will be rated suitable for use as irrigation for human consumption.

The plan includes a farmers' market, for seasonal sales of fresh produce, and a public market where people will have a place to sell crafts.

Parking for trailheads and the community garden are also incorporated into the plan.
Cure' said the land is considered a Brownfield Site, which could make it eligible for grants and other funding.

Solar power is something the committee is researching and Cure' said they are working on a budget.

As she described the aesthetics of the project she stated one of the elements they've had to deal with is "the road noise is very loud," referring to Carefree Highway.

Francia said he was sending a letter to all of the town's businesses to see how they might benefit from the community garden, asking what spices they use, for example.

Photo: PVCC Dean Denise A. Digianfilippo