Obituary

Jack K. Davis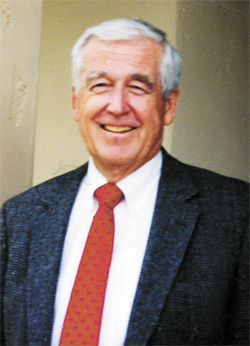 Longtime Cave Creek resident Jack K. Davis died on Saturday, April 18, 2009 after an heroic struggle with complications due to a failing heart. He was 75.

Jack was born in Flagstaff. He attended Adams Elementary School, North Phoenix High School and graduated from the University of Arizona with a degree in mechanical engineering.

After graduating from college, he married Harriet, his wife of 51 years, and joined the AiResearch firm, which is now Honeywell. He retired after 37 years with the company.

Jack loved horseback riding and enjoyed his time volunteering with the Maricopa County Sheriff's Posse. He was a member of the Kiwanis Club of Carefree and Desert Hills Presbyterian Church.

He is survived by his wife, Harriet; sons, Ron, Chuck, sister, Patti Onorato, of South Carolina, and many nieces and nephews.

A memorial service will be held at 1 p.m. on Friday, April 24, 2009 at Desert Hills Presbyterian Church.

In lieu of flowers, the family requests memorial donations be made to the American Heart Association, 2929 So. 48th St., Tempe, AZ., 85282.