"Eggury" Master Artist Fran Hunold displays decorated eggs at Cave Creek Museum
April 8, 2009
Join the Museum by April 30 for chance to win Faberge-style Egg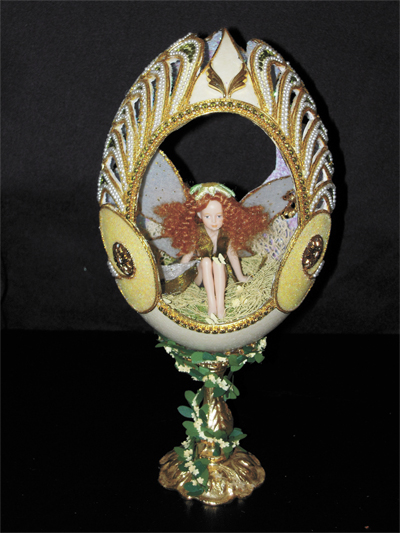 CAVE CREEK – Just in time for Easter, Cave Creek Museum is hosting an egg-ceptional exhibit featuring the works of "Eggury" master artist Fran Hunold of Cave Creek. Hunold's display includes more than 50 Faberge-style eggs ranging in size from cockatiels to ostrich eggs.

Hunold, collections manager at the Museum, has been working at the art of "Eggury" for 25 years. The exhibit at the Museum is just a sampling of her more than 300 beautifully decorated eggs.

"The rumor in my family is that my mother was born on Easter Sunday. Supposedly, this was her reason for her love of eggs. I guess I am my mother's daughter," Hunold said.
When she first started, she worked with chicken eggs, which she would cut with a pair of cuticle scissors.

"My mother had a large collection of china, porcelain, and other types of eggs. The only real ones she had were the ones I made for her," she said.

Her passion for "Eggury" increased after taking a class in Phoenix in 1986.

"My husband says I've been 'an Eggin' Fool' ever since," said Hunold.

The Museum exhibit includes a variety of themes ranging from Easter, Christmas and Halloween to babies, angels, Native Americans, and Western scenes. She takes credit for some ideas, but said others are from kits or classes she has taken.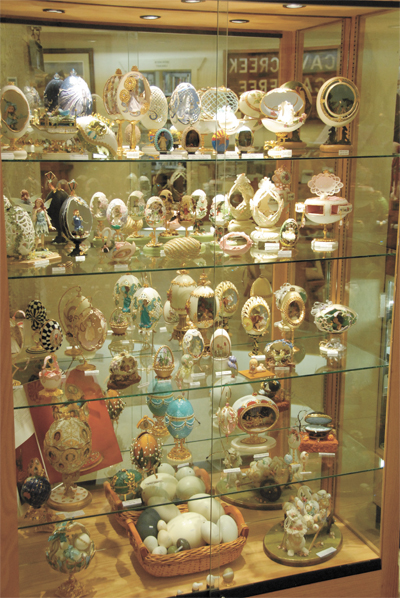 Hunold teaches "Eggury" classes at the Museum with the next class scheduled for the fall. One of her protégés, Karen Friend, has achieved national acclaim for two of her decorated eggs. She entered and won the 2008 and 2009 Hickman Egg Ranch "White House Easter Egg" competitions. Her eggs, representing Arizona, are on display at the White House Visitor's Center and will become part of the Presidential Library collection.

"We're thrilled to showcase Fran's egg collection alongside a replica of Karen's 2008 egg that appears in the White House," said Evelyn Johnson, Cave Creek Museum executive director. "Come see this spectacular, colorful display along with our other art, mining, and archeological exhibits."

Those who join the Museum at the family membership level of $50 or higher by Thursday, April 30 will be entered to win one of Hunold's Faberge-style eggs in a special drawing.
Located at 6140 Skyline Dr., Cave Creek Museum features an extensive collection of prehistoric and historic artifacts that describe the lives of Native Americans, miners, ranchers and pioneers.

For information about Cave Creek Museum and its programs, call (480) 488-2764, or visit www.cavecreekmuseum.org.