Fourth grader scores big win in young composers competition

By Linda Bentley | April 8, 2009

Sometimes daydreaming really does pay off
CAVE CREEK – Graham Cohen, a fourth grade student in Terry Doub's class at Lone Mountain Elementary School, recently learned he had won a Morton Gould Young Composer Award from the American Society of Composers, Authors and Publishers (ASCAP) for his composition "Infernal Fantasy," which he says was inspired by daydreaming.

Cohen, ten, the youngest entrant in the competition, will be whisked away to New York to attend an awards ceremony on May 21 to receive his $5,000 scholarship and trophy.

Born in Scottsdale to musical parents Warren Cohen, conductor, pianist, composer and musical director of MusicaNova in Scottsdale, and soprano Carolyn Whitaker, there seems to be little question genetics played a role in Cohen's vast musical interests and talent.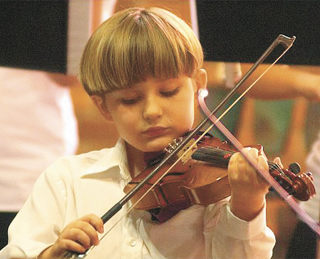 Almost entirely self-taught, Cohen began composing at age three and learned about orchestration by copying out Sebelius' Fourth Symphony at age six.

He gained knowledge about the different instruments of the orchestra by sitting in the various sections of his father's orchestras and asking the musicians questions.

Cohen has written several symphonies; concertos for cello, alto flute and flute; hundreds of pieces for symphony orchestra and gamelan; and is currently working on world music.

Cohen, who began studying violin at age five and piano at age six, plays violin in the Metropolitan Youth Orchestra in Mesa.

Proficient at recorders, piccolo, flute and fife, Cohen is now playing oboe in advanced band class and there doesn't seem to be an instrument Cohen can't play even after only a brief acquaintance.

While Sibelius is his favorite composer, he also considers Stravinsky, Hayden, Bartok and Messiaen amongst his favorites.

Other lesser known composers Cohen is fond of include Patrick Jonathan, Richard Arnell, Aldo Finzi and, of course, his father.

When asked what he wants to do when he grows up, Cohen says he'd like to play viola in the Oslo Philharmonic Orchestra.

He is already learning Norwegian so he can communicate with the folks in Oslo when he goes.

Because he was born in the Sonoran Desert, used to warm weather and abundant sunshine, Sonoran News wondered if Cohen wouldn't find those long, dark, cold Norway winters depressing.

Warren Cohen said his son was intrigued by Norway because it is so different from Arizona, adding, "Hey, he's ten," indicating there will be numerous opportunities to change his mind between now and then.

Photo: Lone Mountain Elementary School fourth grader Graham Cohen, ten, won the Morton Gould Young Composers Award. Cohen will attend an awards ceremony in New York on May 21 to receive a $5,000 scholarship.
Courtesy photo