Community invited to Army Special Forces Spring Fling

By Curtis Riggs | April 1, 2009
Will raise money for troops on April 18
CAVE CREEK – Army Special Forces veterans and their families have been getting together here every spring to reminisce about their military days and come up with ways to help Special Forces veterans presently serving and their families.

The Special Forces Association Chapter 12, the Desert Rats, is comprised of Green Beret veterans who live in Arizona. Their annual Spring Fling will be held at the home of Cave Creek resident Marc Malin at 4 p.m. on Saturday April 18. Malin lives on Spur Cross Road.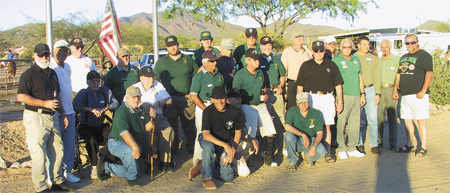 This year the rock band Della Vella, which features former Steppenwolf bass player Carl Della Vella, will provide the entertainment for the evening. Food and drinks will be served to enhance the camaraderie of the evening.

Malin is extending an invitation to the entire Cave Creek community to attend this year's Spring Fling. He would like to see the community get more involved so the Desert Rats can get a strong fund-raising campaign going to help troops and their families.

Malin hopes to raise more money this year so scholarships for returning soldiers can be increased. He would like to see the chapter raise enough to purchase a couple of homes near the V.A. Hospital on Indian School where families of veterans can stay while the veterans are receiving medical treatment.

He likens involving the Cave Creek community in the group's efforts to earlier Special Forces missions, which typically involved securing an area and working with an indigenous population.

"No matter if it is 2009 or 1970 we are still close to our mission," he said.

Photo: Army Special Forces veterans have been gathering at the Cave Creek home of Marc Malin every year. This year, the community is invited to the Spring Fling, which will be held April 18. Photo by Curtis Riggs