Enjoy and help preserve what makes Cave Creek someplace special

By Linda Bentley | April 1, 2009
Fundraiser with an opportunity to see what you'll get for your money

CAVE CREEK – What better way to see what you'll get for your money than to attend a fundraiser right smack in the middle of what that money's buying?

The town of Cave Creek, in partnership with Maricopa County Parks and Recreation Department and the Desert Foothills Land Trust, decided to invite people out to enjoy the beauty of the area as it kicks off the first of several planned fundraisers on Saturday, April 18 to help purchase more than 4,000 acres of open space from the state land department.
While a recent appraisal pegged the land at approximately $400 per acre as open space, appraisals are only good for six months. However, when the town is ready to make an application to the state land department to purchase some or all of the land, the appraisal will be for open space, utilizing the same methodology.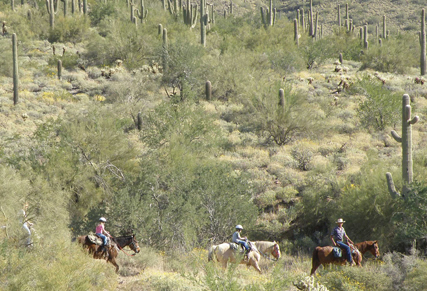 Melanie Williams, a member of the town's Open Space Advisory Group, said several more fundraisers are in the planning stages and are aimed at the variety of outdoor activities the area offers, such as cycling, hiking, horseback riding and archeology. The Sonoran Arts League is also helping put a fundraiser together.

The kick-off event on Saturday, April 18 from 2 p.m. to 6 p.m. will be at the new Cave Creek Regional Park Nature Center, 37019 N. Lava Lane (one mile north of Carefree Highway and 32nd Street).

Maricopa County Parks is hosting the affair with an owl and raptor display by Wild at Heart along with Cave Creek Regional Park's collection of live reptiles and invertebrates, presenting a great opportunity to marvel at some of Arizona's magnificent creatures up close.

There will be beer, wine and appetizers plus music by Rondavous Trio. Complimentary soft drinks and water will also be available.

Tickets are $25 each and include one glass of wine or beer. Children under 12 are free.
Tickets are limited and may be purchased at Cave Creek Town Hall, 37622 N. Cave Creek Road, or by calling Teresa Vine at 480-488-6600.

Photo: The grand opening of Cave Creek Regional Park's new Nature Center highlighted the variety of outdoor activities the area offers, which will be greatly enhanced with the addition of 4,000 more acres of open space. April 18 kicks off the first fundraiser to purchase that open space.
Photo by Linda Bentley