Parents asked to Step Up! and pony up

By Linda Bentley | April 1, 2009

Group asks parents to put their money where their kids are
CCUSD – There apparently is no good case scenario when dealing with the 2009/2010 budget at Cave Creek Unified School District.

There were parents who attended the district's budget forums who indicated they would be "happy to pay more in property taxes" if they knew it would go to the school district.

That has always been an option. Anyone can donate any amount of money, without restriction, directly to the district, or any other governmental subdivision, any time they choose, and it's tax-deductible.

During a meeting last week at Cave Creek Town Hall, Greg Smith, spokesperson for Step Up!, a parent-initiated program, said it is asking parents to minimize the reduction of programs, teachers and staff, which have been prioritized and is pending board approval, by donating $200 per student or $350 per family by April 10, to arrive in time for the district's deadline to issue reduction in force (RIF) notices to teaching staff, which gives them first rights to be rehired over the next three years unless they resign.

Students, parents and the district don't want to see programs, classes or teachers eliminated, but the stark reality is, there will be a shortfall of close to $5 million next year, which comes to roughly $800 per student.

Smith said what they're asking parents to donate is "just over a dollar per school day for each kid, but it could exceed $1 million if all parents donate. We could save teachers."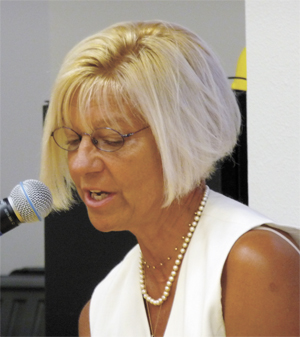 Superintendent Debbi Burdick (right) calls CCUSD "a rich-poor district," which she explained is due to the district having such an insignificant number of "Title I" students, meaning it receives very little federal funding based on the number of students who qualify for free or reduced lunches.

She went on to say the "stimulus money," as little as the district would receive based on its percentage of Title I students, must be used for remediation or special education and, even though CCUSD is grappling to sustain its current programs under the anticipated budget cuts, stimulus funds may only be used for new programs.

The district would also be required to explain how it will continue to sustain these programs after the two years of stimulus funding is gone.

Burdick stated the district will accept whatever stimulus funds are made available.

So, while school districts are scrambling to keep the inevitable reductions to a minimum, the federal government is requiring school districts to expand its offerings rather than sustain its current programs, which would require additional money in two years, without any reliable sources of funding in place for existing programs and curriculum.

There will also be some state stabilization funds available, which school districts are competing for against every other state agency and subdivision facing budget shortfalls. Until the legislature completes next year's budget, no one knows how much will go toward filling the education funding gap.

According to Burdick, the average teacher costs approximately $50,000 per year, including taxes and benefits.

She said if the district were to increase middle school class sizes by an average of two students, it could save between $600,000 and $700,000, still a long way from the $4.9 million in cuts the district would need to make.

Administration has also recommended a 1 percent decrease in salaries.

Although the priority list has not yet been approved by the governing board, it is scheduled for discussion and possible action during the March 31 board meeting.

Sonoran News asked the district how much money it would save if it eliminated pupil transportation, something Arizona school districts are not required to provide.

CCUSD Transportation Director Bruce McWhorter said the district receives approximately $2.1 million from the state for mileage for providing transportation, but spends approximately $2.4 million per year. So, providing transportation costs the district about $300,000 per year, including employees, maintenance, etc.

However, WcWhorter said the district is required by federal law to provide transportation for special education students, which he said was included in the $300,000, indicating the savings would be lower than $300,000 although he didn't know offhand by how much.

The district currently has a fleet of 54 buses. When asked what the assets were worth if the district were to eliminate transportation and sell them, McWhorter said about $100,000, citing there's not really a market for them.

According to McWhorter, new emissions standards could increase the price of buses to as much as $130,000.

Visit www.ccusd93.org to view the district's summary of possible budget reductions along with comments from the budget forums.

Cave Creek Town Manager Usama Abujbarah said graduates from CCUSD should consider making a contribution to the district, noting the town currently employs two former CCUSD alumni; Associate Planner Luke Kautzman and Utilities Manager Jessica Marlow.

Burdick said a Financial Feasibility Committee is meeting over the next two months and will make its recommendations to the board in May about whether or not to call for a bond and/or override election, as the board will need to decide in June if it plans to call for an election this November.

In the interim, Smith is asking parents, as well as district residents and businesses, to send in their tax-deductible contributions by April 10, so the district will have a better idea of what cuts they will have to make.

Checks should indicate they are a donation and can be mailed to CCUSD, PO Box 426, Cave Creek, AZ 85327.