My View
By Don Sorchych | March 18, 2009
• Carefree postmortem
• Cave Creek postmortem
• Binky



Carefree

Primary Election results came in from Maricopa County Elections at about 5: 30 p.m. last Friday. The General Election will be held on May 19 and several runoffs will be voted on that date.

The biggest news is in Carefree where three were seated and seven will compete for four seats. There were a total of 1,244 votes, so 623 votes were required to avoid a runoff.

Proposition 403, which would have extended council to four year terms was soundly defeated. The self serving measure by six councilmen, not Bob Coady, lost 659 to 503.

It was pleasing that incumbent Bob Coady was top vote getter with 800 votes. Second was Challenger Doug Stavoe with 659 votes and third was Councilman Glenn Miller with 627 votes.

Congratulations to the three winners.

Only 46 votes separated the remaining seven who will face a runoff. They are:
Challenger Peter Koteas 615
Incumbent Greg Gardner 613
Challenger Susan Vanik 588
Vice Mayor Lloyd Meyer 587
Mayor Wayne Fulcher 586
Incumbent Bob Gemmill 581
Incumbent David Schwan 569

Incumbents, I believe, not only counted on the vitriolic attacks by their two PACS to defeat challengers but were fed erroneous information and used it in inappropriate ways to seal their victories.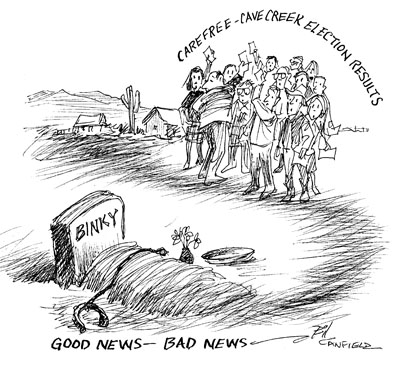 Specifically they claimed Councilman Coady had a "secret" account for recycling. Both towns were fully aware of the account. I reviewed the checkbook and found no misuse of funds donated to the account.

Challenger Stavoe had a simple arithmetic mistake in a Sonoran News guest editorial also used as a press release.

Mayor Fulcher sent out a COINS (official town newsletter) alert calling attention to the mistake but went further and published a statement saying, "The information provided by Mr. Stavoe is not only untrue but is reckless and irresponsible. The general economy is severe enough without trying to create this kind of panic."

Examination of statutes governing misuse of government media argue that COINS was inappropriately used. Requests to Fulcher and their webmaster have been ignored.

Employees have told sources that COINS requires Fulcher's approval.

We are told that at least one complaint has been filed with the Attorney General's office. The fact that Stavoe had the second highest vote speaks for itself.

It will be interesting to see if Kiwanis invites Attorney General Terry Goddard to speak and asks Fulcher to introduce him as they did when former Mayor Ed Morgan had an investigation ongoing.

There will be much to say before the runoff election. Sonoran News has suggested voters cut off the snake's head by retiring Mayor Fulcher and Vice Mayor Meyer who finished third and fourth from the bottom.

Carefree voters are to be commended for thoroughly examining the issues and voting accordingly.

There is much to be done. Carefree officials have stonewalled the state of the economy and insiders insist their Taj Mahal fire station and Rural Metro contract may be difficult to finance. It will be interesting for former outsiders to look with at the budget with a more realistic view.
Cave Creek

There were fewer surprises in Cave Creek. 1,200 votes were cast. Town Manager Usama Abujbarah guessed exactly that so I lost a bet, having forecast 1,000 votes. So 601 votes were needed to avoid a runoff.

Uncontested Mayor Vincent Francia had 880 votes. Congratulations Vincent!

Councilman Ernie Bunch was top vote getter among council incumbents and candidates with 701 votes. Challenger and Ex-Councilman Ralph Mozilo was next with 657 votes. Challenger Steve LaMar was third with 645 votes. Councilman Dick Esser was fourth with 626 votes.
These four are seated. Congratulations!

Of the remaining seven, four will compete for two seats and will compete in the General Election.
Challenger Adam Trenk 598
Councilman Thomas McGuire 595
Challenger Jim Bruce 589
Councilwoman Kim Brennan 479
Remaining candidates and a council member have lost:
Councilwoman Grace Meeth 416
Challenger Reg Monachino 371
Challenger Shea Stanfield 313

Among the runoff candidates, Adam Trenk has told confidants he can't run because he will be in law school. We will see what his choice is. He had talked to other candidates telling them he was sure he would win and asked who else they would want on council.

That kind of confidence fits his 26 years of age. Trenk did play all sides, attending dark side forums, PAC forums, wearing his cowboy hat and supporting T.C. Thorstensen's so-called Cafe Creek Community Event Center behind Hammerhead Jack's property.

Let's not forget that property would be an upzoning if used for commercial purposes. It was defeated once by referendum and twice by council action. Owner T.C. Thorstensen was told the town would consider his application again if he considered signing a development agreement which would assure he used the property for his stated purpose. He refused, which is a strong indication he would sell the property once it became commercial.

If the town did upzone by vote you can count on a referendum and Thorstensen would probably lose anyway.

Trenk's youth and lack of historical knowledge of this town is fatal.

Both Jim Bruce and Thomas McGuire were Sonoran News choices for council seats.

How can anyone ignore the experience and devotion to Cave Creek that Bruce has? As a retired lawyer I am sure he has seen it all. Further, he is on the Planning Commission, an excellent training ground for council.

Thomas McGuire has two terms under his belt as a councilman. If you followed his votes they were in large majority favorable to the town. His experience and loyalty to the town have been valuable. He is retired and serves the town as a docent at Spur Cross Ranch where his knowledge of geology and nature is vital.

We have discussed Councilwoman Kim Brennan at length and believe she is unsuited to be on council.
Binky

Now the bad news. Our loyal newshound and mascot died. Linda Bentley's Binky simply wore out and passed on. Although we know he is in a better place, our love for him creates tears and longing to hold him once again. It will be a long time before the pain goes away. Our prayers are with Linda. Binky was her devoted buddy since puppy hood.