Southface Energy brings solar power to the community

By Curtis Riggs | March 18, 2009
CAVE CREEK/CAREFREE – Edward Fedoruk and Corey Garrison of Southface Energy have become the go to guys for the community's solar power needs.

"The different thing about us is we are the local guys. We care about the people we do work for," Fedoruk said. "We are readily available, design good systems and do quality installations."

While both Fedoruk and Garrison stress off-the-grid solar energy systems are becoming "mainstream" in the Desert Foothills they are simply "trying to supplement people's power needs." With roof, and other, solar panels the off-the-grid systems are "becoming an everyday normal thing" locally.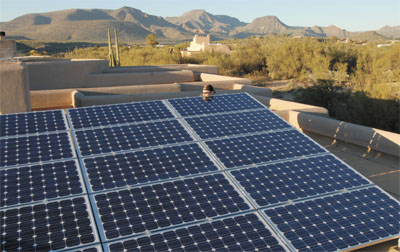 Federal, state and utility company rebates now available allow purchase of a $25,500 3.3 kilowatt solar system for $6,950.

"These systems will pay for themselves within eight to 10 years, sometimes sooner," Fedoruk said. "After that people are producing energy for free."

Southface Energy solar systems are warranted for 25 years.

Southface Energy is holding a Spring Into Solar special on 1.76 kw and 3.52 kw systems. The specials are good for roof- mounted systems in the Cave Creek, Carefree area only.

Although Arizona is just beginning to rival other parts of the country and world in the amount of solar energy used, that could soon change . New federal energy regulations encourage the use of solar and other alternative sources of energy. The Arizona Corporation Commission is also encouraging the use of more solar power in Arizona because there are approximately 300 sunny days in Arizona every year. Cave Creek's new water campus along the Carefree Highway will be powered by solar power as much as possible.

"While the rest of the world is embracing solar energy, Arizona is just starting to pick up steam," Fedoruk said.

"We are at the right elevation to get the most we can from the sun," Garrison adds.
Garrison explains the wheels on a solar power unit typically begin to spin at about 8 a.m. and run until mid-afternoon in this area. The power created during these hours can provide one's energy needs for the rest of the day.

People can get electricity credits for the excess power their solar system generates from APS.

"You can use the grid as a power bank," Fedoruk said.

The cost savings and conservation elements of solar power make its use attractive to many.
Both Fedoruk Garrison's spouses are local businesswomen. Fedoruk stated, "We are firmly anchored to the community with our families."

For more information contact Fedoruk at 480-220-8817 or Garrison at 480-206-0652.