America's Wild Horses and Burros Offered for Adoption

Yuma March 20-22, Tucson April 24 – 26

Yuma – About 30 wild horses and burros, representing the spirit of the historic West will be available to qualifying adopters in Yuma March 20-22.. Sponsored by the Bureau of Land Management (BLM), the Wild Horse and Burro event will offer a variety of animals, including filly and stud colts, adult mares, and Arizona's wild burros.

The BLM corrals for the Yuma adoption event will be set up at the Broken Gate Saddle Club on the Marine Corps Air Station (MCAS), at Avenue 3E and County Road 13.

Adoption fees for all animals start with a minimum bid of $125 by approved adopters in Saturday's auction. Following the auction, wild h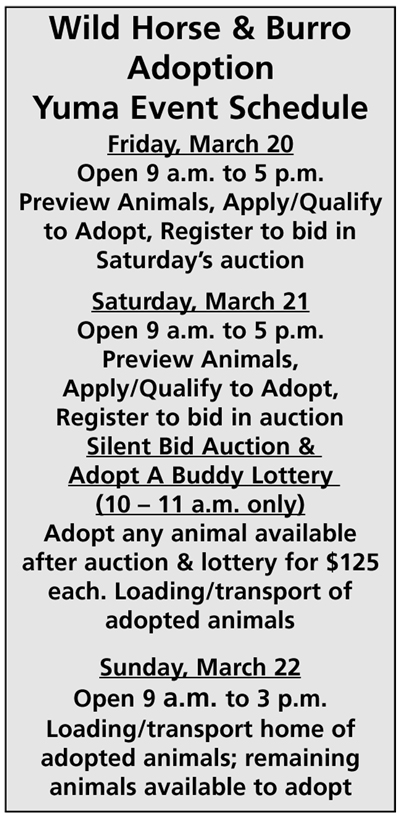 orse and burro adopters may enter the "Adopt a Buddy" lottery and adopt an additional horse from those remaining available for a fee of only $25.

After auction and lottery adoptions are completed, any available animal may be adopted on a first-come, first-select basis for a $125 fee. Adoption fees in payment by cash, check, or major credit card will be processed prior to pick-up of each adopted animal. BLM will load each animal, with the adopter's halter and lead rope, into an acceptable trailer provided by the adopter.

The BLM offers wild horses and burros gathered from public lands in the West to qualified adopters who must demonstrate humane care for the animal for a year in order to receive title. To qualify to adopt, you must be 18 years of age, have approved facilities to keep the animal and transportation home for it from the adoption site. For more information and adoption qualifications, call BLM at 623-580-5500 or toll-free 1-866-4MUSTANGS (468-7826), or visit BLM's websites: www.blm .gov/az/ and www.wildhorse andburro@blm.gov.

BLM Wild Horse and Burro Adoptions will be held in Tucson at the Pima County Fairgrounds during Pima County Fair, April 24-26.

The BLM manages more land – 258 million surface acres – than any other federal agency. Most of this public land is located in 12 Western states, including Alaska. The Bureau, with a budget of about $1 billion, also administers 700 million acres of sub-surface mineral estate throughout the nation. The BLM's multiple-use mission is to sustain the health and productivity of the public lands for the use and enjoyment of present and future generations. The Bureau accomplishes this by managing such activities as outdoor recreation, livestock grazing, mineral development, and energy production, and by conserving natural, historical, cultural, and other resources on the public lands.