Inaugural Out West Art Festival a great success

By Curtis Riggs | February 25, 2009

Stagecoach Village show pleases artists and organizers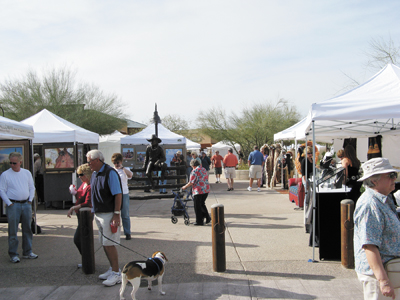 CAVE CREEK - Any doubts Sonoran Arts League organizers had about the inaugural Out West Art Fest being a successful art festival evaporated within a few hours last Friday.

Festival chairwoman Michelle Russell was concerned about attracting large crowds of art buyers at the first-ever art show at Stagecoach Village because of the stagnant economy, competition with other festivals and the newness of the Stagecoach Village venue.

The League wanted to establish a Cave Creek festival this year to compliment its Sonoran Festival of Fine Art, which will be held in downtown Carefree April 3 – 5.

Russell estimates somewhere between 15,000 and 20,000 art patrons showed up for the weekend Out West Art Fest.

"We had an excellent crowd on Friday," she said about the early indications the festival was going to be successful. "Many times crowds are small on Fridays, it was then we knew it could be big."

The crowds throughout the weekend were serious art patrons who were looking to buy and not just out looking around. Cave Creek painter Randy Galloway sold four paintings, three large ones and a smaller one, on Friday alone.

Galloway envisions an arts festival, which will "grow and grow" and soon "be equal to Carefree."

The Sonoran Festival of Fine Art is now in its eighth year. It attracts large crowds every year.

"We had a steady qualified art-loving crowd," Russell said while adding even participating artists who traveled long distances to get to Cave Creek were happy they came. "The patrons and the artists know the Sonoran Arts League puts on a high-quality show."

Many of the artists commented on the openness of the show when talking about its layout. Most also enjoyed the beauty of Stagecoach Village.

"It went incredibly well. The crowds were outstanding for a first-time show," S.A.L. president John Budge said. "A lot of artists had great sales, most said they would come back next year."

Photo by Curtis Riggs:
Out West Art Fest artists and visitors commented about the beauty of the new Stagecoach Village retail center and what a perfect venue it is for an arts show last weekend.