Election rules headline Sonoran News forum

By Curtis Riggs | February 18, 2009
Nastiness mixed in with Prop. talk

CAREFREE – An upcoming ballot measure, which would lengthen town council terms, the May proposition intended to allow the mayor to be selected by citizens and the age-old divide between supporters of area non-profits and those seeking to make a change in town government dominated Monday's Sonoran News candidate's forum.

The March 10 ballot measure, which would extend council terms from two years to four and stagger the terms, caused a spirited debate among the 10 candidates seeking seven council seats. As did Councilman Bob Coady's May 19 Proposition 404, which calls for Carefree citizens to directly elect the mayor instead of having him appointed by seven council members.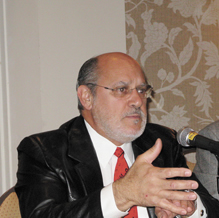 Adding to the forum fireworks was the attitude and views of first-time council candidate Peter Koteas, who expressed clear frustration with how town government presently operates. Koteas' line of thinking caused six of the council candidates to often immediately refute him and Councilman Glenn Miller to intimidate him into being quiet at one point.
"I didn't attack him, that wasn't an attack," Miller responded when one debate attendee in the crowd of 75 chastised him for "attacking a member of the panel when there was no need to do so."

Koteas responded, "I'm not angry, I'm frustrated," when asked to explain his dim view of town government.

Despite Proposition 403, the measure which extends and staggers council terms, coming a couple of month's before the decision about changing how the mayor is chosen, Coady's Proposition 404 was the hot topic of the evening. The irony of the forum discussion, which took place in a very cold room at the Carefree Resort & Villas, several of the six council incumbents who opposed the measure so vigorously for months said they would support it if it were rewritten.

"The problem with the initiative (Prop. 404), is it's a mess," said long-term Councilman Greg Gardner, who even donned a chef's hat early in the forum to show his support for a Kiwanis Club of Carefree program. "It needs to be re-written with legalese."

First-term Councilman Bob Gemmill offered, "Citizens have the right to directly elect the mayor, but this received no legal review when it was drafted."

Gemmill, as did Vice Mayor Lloyd Meyer and first-term Mayor Wayne Fulcher, faulted Prop. 404 because it would allow the candidate receiving the most votes for mayor to win election.
"It would lower the standard for mayor below the town council," Meyer said "The attorneys looked at it and it's a mess, a financial and legal nightmare."

Meyer continued he would "consider a properly thought out change in the way we select the mayor," however.

Fulcher said he "focuses on the number 34 percent" because a mayor could be elected with that percentage if three people were running for office.

A nasty exchange between Fulcher and a couple sitting up front in the audience ensued after this comment.

"Don't talk down to us," said the lady, who was clearly upset with the mayor's demeanor.

"I propose the mayor be elected with a majority vote," Fulcher countered.

First-term Councilman David Schwan said he had "no position on how people elect the mayor.

Coady countered the initiative, which became Prop. 404, "was the right thing to do," citing the 401 citizens who signed petitions in support of it.

"It's now a moot point. It's been approved and will be on the May 19 ballot," he said.

First-term council candidate, and present Planning and Zoning Commissioner, Susan Vanik, said staggering town council terms "would be OK" because it would open up spaces for new candidates "while keeping seasoned people on the council."

First-term candidate, and downtown merchant, Doug Stavoe said he "could see no value in staggering the terms."

Photo by Curtis Riggs
First-term town council candidate Peter Koteas was in the eye of the storm at Monday's Sonoran News candidate's forum because of his opposition to how the council presently operates. "I don't believe anyone has the answers, but collectively we can arrive at the answers," he said about his "volunteer" view of town service.