The faces of greed and the victims left in their wake
By Linda Bentley | February 11, 2009

Wise convinced a retired couple in their mid 70s to take out a multi-million-dollar mortgage on a home they owned free and clear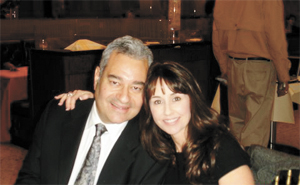 SCOTTSDALE – After last week's article, "Scottsdale CPA accused of operating $75 million Ponzi scheme," exposing the Ponzi scheme run by Dan Wise, whose CPA certification was revoked in December, Sonoran News heard from approximately 40 of the estimated 120 victims, including Malia Guercia from Long Island, N.Y.

Guercia wrote, "I am just one of the many people that have been defrauded by Dan Wise. A friend forwarded this article to me this morning in hopes that knowing SOMEONE has taken notice of the corruptness and monster Dan Wise is would make me feel a little better.

"I know you have probably gotten a few calls or letters since this article was published, but I felt anything I do to get my story out there might help."

Guercia, a single mother, not only lost her life savings to Wise, but her six-year-old daughter's as well.

In February 2008, Guercia said Wise convinced her to withdraw all their savings from Met Life and invest it with Whispering Winds, LLC.

Guercia has since been forced into filing bankruptcy as she and her daughter are being evicted from their home.

Adding insult to injury, Guercia learned she now owes the IRS thousands of dollars in back taxes, fines and penalties for what Wise was supposed to have taken care of.

Meanwhile, Guercia pointed out Wise is still not in jail but walking around "with money for food and his fancy cars," while his wife is "still spending on her American Express Black card," and stated, "I wish I had the extra money for an attorney to help me but Dan has everything."

Guercia said she feels like her life has completely fallen apart and she has let her daughter down as a mother and a family provider.

"I cry myself to sleep every night and pray for the strength to get up every day, put a smile on my face and tell my daughter that mommy will take care of things.

Many of Wise's victims from across the country have found one another and formed a group that, at first, pursued a goal of getting their money returned, but as reality sank in that might never occur, their efforts have turned more to becoming a support group, while pursuing criminal charges against the Wises, who continue to live the high life at their expense.

On Feb. 4, Compass Bank filed for relief from stay of the involuntary bankruptcy, so it can proceed with the scheduled trustee sale on Feb. 25 for the Wise's Desert Mountain home.
After reviewing the bank's Memorandum and Points of Authorities, it appears Compass Bank was also conned by the Wises.

Although, it's difficult to explain why Compass executed four loans with Wise, including an "Equity Optimizer Credit Agreement" (Note 1) on Dec. 15, 2006 in the amount of $500,000 for the purpose of financing improvements to the Desert Mountain property, which the Wises "were simultaneously purchasing with another loan from Compass."

On Dec. 18, 2006, Compass executed a fixed/adjustable rate note (Note 2) in the amount of $1,473,000 for the purchase of the Desert Mountain property.

Compass executed another promissory note (Note 3) with the Wises on Feb. 1, 2008 in the amount of $300,000 for the purpose of "buying an art collection from an estate sale."

On March 28, 2008, Wise, without his wife as co-borrower, executed yet another promissory note (Note 4) with Compass Bank in the amount of $250,000 for the purpose of "providing temporary cash reserves."

The Wises failed to pay as agreed and exceeded their credit limit on Note 1, owing $522,871.

They defaulted on Note 2 as well, owing $1,548,225, including $184,120 in arrearages.
When Compass demanded payment on defaulted Notes 3 and 4, the balances totaled $326,700 and $269,339, respectively.

In November 2006, the appraisal obtained by Compass indicated the fair market value for their home was $2.5 million.

Compass notes, however, the property is encumbered by numerous other liens that total approximately $6.8 million, asserting all are junior in priority to Compass' liens.

Compass claims there is no equity for the Wises in the property and the liens encumbering the property, including all of Compass' liens, total approximately $10 million, with interest continuing to accrue.

When the Ponzi scheme collapsed, which all the victims say became obvious around June 2008, a retired couple in their mid 70s found themselves with a multi-million-dollar mortgage and payments they can't afford on a home they owned free and clear before Wise convinced them to take out a mortgage to invest in Whispering Winds.

Last July, Wise sent out a "Dear Clients" letter that opened with, "As I trust all of you are aware, after 20 years of providing service without any problems, in the last few months not only has our business grown creating an enormous demand for additional funds, but we have had a couple of funding providers fail to fund as they promised. This has resulted in liquidity issues …"

Wise also stated, "Please be advised that several lawsuits were filed against me and Whispering Winds LLC, because individuals were dissatisfied with responses they were given in the last couple of months. If you are one of the individuals who have filed such actions, as your money will be due or will become due … I offer judgments to be held and which will be paid in full on or before Oct. 1, 2008."

"However," he threatened, "those who wish to proceed in such manner will go to the end of the cue and we will not make efforts to accelerate any payments to you."

On Feb. 5, the day after the article came out, attorneys for the Securities and Exchange Commission filed notices of appearance in Wise's bankruptcy case. Victims are hopeful this will start moving things along to recover whatever assets may remain before they are all gone.

Courtesy Photo: This December 2007 photo of Dan Wise with his wife Cynthia was taken in New York about a year before his Ponzi scheme started to collapse.