Littlefield featured speaker at Kiwanis
By Curtis Riggs | January 21, 2009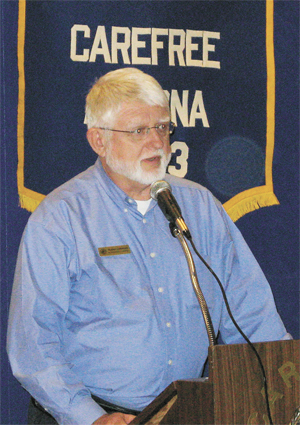 CAVE CREEK – Scottsdale City Councilman Bob Littlefield talked about the "end of an era and the beginning of a new era" when he addressed the Kiwanis of Carefree at Harold's Cave Creek Corral last week

Littlefield was referring to a change in the Scottsdale's Mayor's office, which came with the election of new Mayor Jim Lane in November.

"We now have a new tone at all levels of government," he said about the passing of the gavel from two-term mayor Mary Manross to Lane.

The new tone is all about fiscal conservatism.

"That became a lot more important a few months ago," he said. "Scottsdale will be seeing lower revenues in the next fiscal year."

He stated Scottsdale is in a "better position" to withstand its anticipated $40 million budget shortfall because those at Scottsdale City Hall have been preparing for it for some time.

"We started planning for this several years ago. That is hard to do in Arizona because there is no deficit spending," he said.

He told the large crowd of Kiwanis Scottsdale's Chief Financial Officer Craig Clifford expects this recession to last three years instead of nine months, the length of normal recessions.

Scottsdale is offering 80 long-time employees early retirement packages as one way to cut its expenses.

"In Scottsdale there will be much less pain to average citizens," he said about the closing of libraries in Phoenix and Mesa and other drastic budget cutting measures. "Scottsdale has more tourism than the rest of the Valley and that will help us to weather this financial crisis."

Photo by Curtis Riggs
Scottsdale City Councilman Bob Littlefield told the Kiwanis of Carefree that Scottsdale is poised to survive the present recession better than most other Valley cities.