Young Musicians Showcase to feature 'Top' artist

January 21, 2009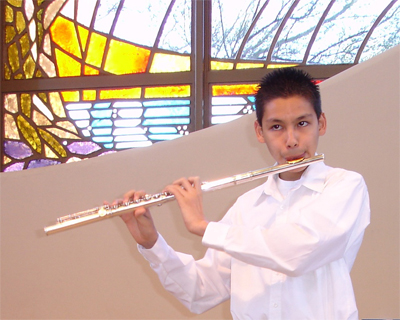 The Barnabas Society / Arizona Musicfest Young Musicians Showcase concert, at 7 p.m. on Friday, January 23, in Lincoln Hall at St. Barnabas in the Desert Episcopal Church features flutist Chaz Salazar; Joy Gunderson, harp; and Derek Goad, viola. These very talented young artists will be performing individually and as a trio. Joy will play "Fantasie pour Harpe" by Camille Saint-Saens; Derek will play Alexander Glazunov's "Elegy," and Chaz will play Movement I. Allegro, of "Concerto for Flute and Orchestra" by Jacques Ibert. As a trio, Chaz, Joy and Derek will perform Claude Debussy's "Sonata for Flute, Viola and Harp."

Chaz appeared on the cover of the Fall 2008 issue of KBAQ's "Wavelength" magazine as a gifted young musician worth watching. He is scheduled to perform this spring on the national radio, television and Internet program, "From the Top," which airs weekly on PBS stations around the country. The "From the Top" radio program ranks in popularity with the famous "A Prairie Home Companion" and the long-running "Car Talk," reaching more than 700,000 listeners each week.

The next concert in the Young Musicians Showcase series is scheduled for April 17, in Lincoln Hall at St. Barnabas in the Desert Episcopal Church, 6715 N. Mockingbird Lane, Scottsdale, 85253. The concerts are open to the public, free of charge. Each concert will last from 45 minutes to an hour and will be followed by a "Meet the Musicians" reception with refreshments. For more information, contact Arizona Musicfest at (480) 488-0806 or St. Barnabas in the Desert Episcopal Church at (480) 948-5560.

Courtesy Photo: Pictured is Young Musicians Showcase artist, Chaz Salazar, as a Middle School student favorably impressing the audience at a 2006 Young Artists Concert. Years later, he continues to make news in the local classical music scene.