Longtime Creeker Grace Frederick dies at age 103 "Amazing Grace" was amazing to the end
By Curtis Riggs | January 21, 2009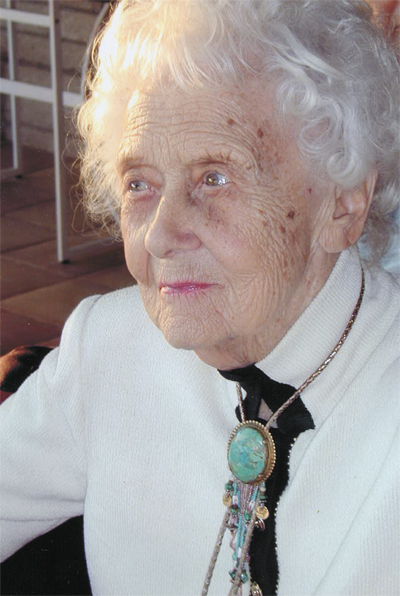 America lost a great patriot and Cave Creek lost a good friend last week with the passing of 103-year-old Grace Voss Frederick.

Grace was so passionate about being an American she built the 18,000-square-foot Grace Museum for the Preservation of Americana so young and old people alike could learn the story of America.

"She was proud to be an American," said Cave Creek Tom O'Reilly, who had known Grace for many years and made many trips around the museum at the end of Fleming Springs Road with her in the golf cart she used to get around the huge facility.

"That's unusual today," he said, "but she felt every bit of it deep in her heart."

Both the Sons, and Daughters, of the American Revolution honored Grace for her patriotism late in her life.

Aviation was another passion of Grace's, evident by a trip through the museum, which also traced the history of aviation. On her birthdays from her 95th to her 100th she would receive a ride in a bright yellow bi-plane, a hot air balloon, a Huey helicopter or other special aircraft.

Her long-time friend Corky Cockburn remembers Grace for her love of Cave Creek and the Sonoran Desert. She tells of the time Grace, who was an accomplished actress of both stage and screen, gave an eloquent talk before the Maricopa County Supervisors in the 1970s about why a mobile home park should not be allowed on what is now the Desert Foothills Scenic Drive.

"No one else could do it like Grace. She talked about how beautiful the desert is and how it should be protected," Cockburn said. "It was a spell-binding speech. At the end even the board of supervisors stood up and applauded."

Grace loved her life and was marveled by the amazing changes she witnessed. People who visited her museum were treated to stories ranging from people being a bit afraid of electricity at the turn of the 20th Century to how things really changed when the automobile began to replace the horse.

Grace also had a feisty, and sometimes mischievous, side.

Jo Gemmill, owner of the English Rose Tea Room in Carefree, remembers Grace for her "devilish wink," which made her the life of the party.

"Grace winked at all of the men," she said, referring to Grace as a 'spunky woman.' "She was an amazing woman, that's why they called her 'Amazing Grace.'"

As to how Grace lived to be 103, her longtime friend and neighbor Eileen Kettner said Grace loved white wine and French fries, which she dipped in butter. Kettner, who cared for Grace in her last years, said she was often "scolded" by Grace for walking the short distance to her home.

"She always told me that I would wear out my body."

Photo by Curtis Riggs: Grace Frederick had that twinkle in her eye until the end as this photo taken on her 100th birthday shows.