Grace Voss Frederick
Nov. 3, 1905 – Jan. 16, 2009

An American and Arizona legend departs life at 103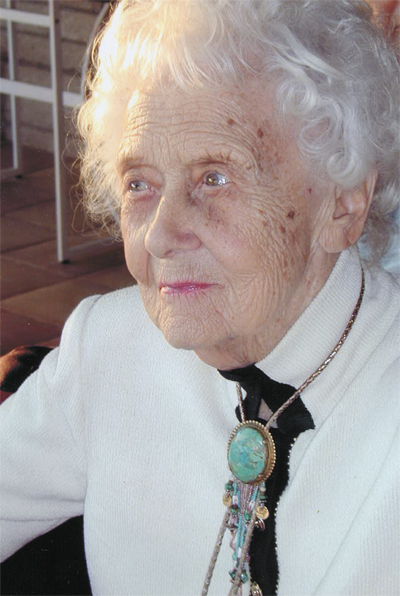 Grace Voss Frederick died in Phoenix on Jan. 16, 2009. She was 103. She was born in Nepperham, N.Y. on Nov. 3, 1905. She attended the New York School of Theater, appeared in Vaudeville and became a leading lady on Broadway, where she appeared in several plays. On Broadway she appeared with such luminaries as Barbara Stanwyck, Elizabeth Taylor and Spencer Tracy. She later moved into television and radio, where she was one of the first actresses to appear on live television. She and her husband Claude moved to Cave Creek in 1971. She became an environmental activist upon arrival in Cave Creek because of her love of the Sonoran Desert and its wildlife. She desired to preserve both. She received many awards during her lifetime. She was awarded the First Woman in Communications Award from the Association for Women in Communications. In 2007, on behalf of her Grace Museum, she received the "Distinguished Patriotic Leadership Award"
from the Sons of the American Revolution. Later that year she was awarded the DAR Medal of Honor from the Daughters of the American Revolution. She began work on her 18,000-square-foot Grace Museum for the Preservation of Americana while she was still in
her 90s. She proudly became obsessed with her new challenge. The museum is dedicated to tracing the history of the United States over the past 200 years. Her determination and work ethic touched and inspired the lives of many around the planet. She was preceded in death by her husband, Claude; father, Rueben; mother, Olga; brother, Curtis and sisters Olga and
Ruby. A memorial service for Grace will be held at 1 p.m. on Thursday, Jan. 22, 2009 at the
Good Shepherd of the Hills Episcopal Church in Cave Creek. Friends ask that in lieu of flowers, volunteer or monetary donations be made to the Grace Foundation for the Preservation of Americana, P.O. box 406, Cave Creek, AZ 85327.