SR Tucker Quarter Horses start brand new riders and young horses
By Joanne Holmberg | September 17, 2008

Stacey and Randy Tucker's 25 years of experience benefits adult amateurs, youth and accomplished show riders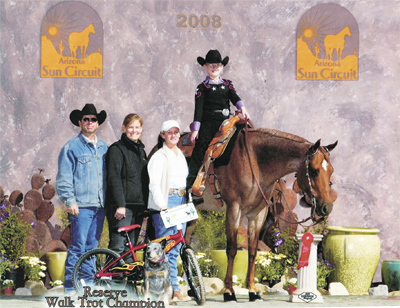 SCOTTSDALE – As an adult with a desire to learn to ride, it can be a daunting challenge to actually take the steps to get in the saddle on a 1000 lb. animal. As a horse owner with a very frisky three year old, it is extremely intimidating to saddle up and mount that horse for the first time. Located at a great new facility on 53rd St. just north of Dynamite, Stacey and Randy Tucker have the experience to accommodate those situations and much more.

Stacey's background includes Equine Science and Animal Science degrees as well internships with leading horsemen and at Colorado State University. Her specialization is starting people who have never rode before and working with nervous riders. According to Stacey "we have several wonderful school horses which we use for beginners through experienced riders to build confidence. All our lessons are private so we focus on the individual's needs, although we conduct group sessions in order to prepare our riders for the show ring." Shows range from schooling shows at Horse Lovers Park on Tatum Blvd. to the Quarter Horse circuit in Arizona and larger shows in California, New Mexico and Texas. As an "A" rated show judge Stacey is able to guide her students, which includes children and adults in disciplines from Western Pleasure to Hunter Under Saddle, through the intricacies of the show ring.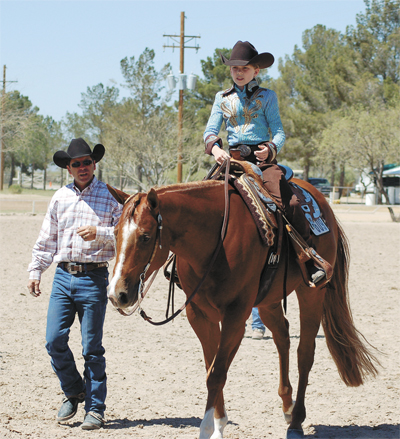 Randy has a background as a roper and rider on the rodeo circuit and specializes in starting young horses and working with the "difficult" ones. Randy and Stacey met and married in 1995 in Tucson and ran their own facility for six years in Sahuarita (just south of Tucson). SR Tucker Quarter Horses moved to Pretty Penny Ranch and found their new home when Pretty Penny closed.

The Tuckers also have a breeding program with their five-year-old, 16.1 hand bay stallion Principle Decision out of Principle Investment. The first crop of foals was born this year and a new crop is expected in February. For the rider ready to move on to owning their own horse, they have several trained horses for sale and
also conduct a horse locator service to match just the right horse with rider.

For more information, visit their website, www.srtuckerquarterhorses.com, or
call 602-677-9506.

Photo 1: Alison Burge, Reserve Walk Trot Champion at the 2008 Arizona Sun Circuit, on her horse Miss Glowin' Zipper with coach Randy Tucker, mom Karen Burge and instructor Stacey Tucker.

Photo 2: Randy Tucker coaching student Sarah Bivens at the 2008 Shamrock Circuit in Tucson.

Awareness best defense against Rabies

PHOENIX – The world is once again joining together to raise awareness and understanding about the importance of rabies prevention. Rabies is the oldest and deadliest disease known to mankind and Maricopa County Animal Care and Control (MCACC) is supporting this initiative.

The most important global source of rabies in humans is from uncontrolled rabies in dogs. It can be eliminated through ensuring adequate animal vaccination and control, educating those at risk, and enhancing access of those bitten to appropriate medical care.

Led by the Alliance for Rabies Control and supported by numerous human and animal health organizations worldwide, World Rabies Day is a unique campaign that brings together hundreds of thousands of people across the world to reinforce the message that rabies is a preventable disease, yet kills 55,000 people needlessly each year, half of which are children under the age of 15.

"Rabies is primarily a disease of children, who are particularly at risk from this terrible disease, due to their close contact with dogs, the major global source", said Dr. Debbie Briggs, Executive Director of the Alliance for Rabies Control. "Children are more likely to suffer multiple bites and scratches to the face and head, both of which carry a higher risk of contracting rabies. Children are often unaware of the danger that dogs transmit rabies and may not tell their parents when a bite, lick, or scratch has occurred from an infected animal", says Briggs.

Rabies prevention starts with the animal owner. Protect yourself, your pet and your community by taking animals to be vaccinated. Avoid stray animals and wildlife. If you are bitten, wash bite wounds with soap and water and seek medical attention immediately. If your pet is bitten, consult your veterinarian immediately. Prompt and appropriate treatment after being bitten and before the disease develops can stop rabies infection and/or prevent the disease in humans and animals.
In honor of World Rabies Day, Maricopa County Animal Care and Control is holding two free rabies vaccination clinics for the community:
Tuesday, Sept. 23; 7—10 am; Friendship Park,
12325 W. McDowell Road, Avondale
(I-10 and McDowell Road)
Sunday, Sept. 28; 7—10 am; PETCO; 5011 East Ray Road, Phoenix
(Ray Road and 50th Street)
Maricopa County Animal Care & Control is a full service animal welfare agency with shelter, adoptions, field services, licensing and education programs. Their mission is to promote and protect the health, safety, and welfare of people and pets in Maricopa County.