Top valley chefs serve up favorite dishes in support of the arts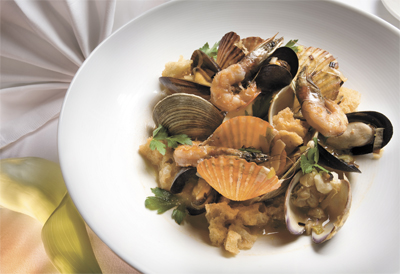 SCOTTSDALE – Tickets are now on sale for Dine Out with the Chefs: A Celebration of the Culinary Arts on Oct. 5, at Scottsdale Center for the Performing Arts. Created by author Pamela Swartz, the mouth-watering event celebrates the Valley's exciting dining scene and is a must for anyone who loves food. Now in its third year, it has become one of the most prestigious epicurean events in Arizona, attracting the top chefs in the Valley.
Advance tickets are available for $75 through the Scottsdale Center for the Performing Arts box office at (480) 994-ARTS (2787). Tickets at the door are $85. Capacity is limited, and advance tickets are highly recommended. Proceeds from the event benefit the Scottsdale Center for the Performing Arts' youth education and outreach programs.
Dine Out guests will have the opportunity to meet 17 extraordinary chefs from the Valley's finest restaurants and to sample their culinary creations, from delicious soups, salads and appetizers to some of their signature dishes and most decadent desserts.
Dine Out with the Chefs will feature author Pamela Swartz signing her brand new edition of Dine Out Phoenix: Where to Eat from Chic to Unique as well as a wine tasting, premium vodka and tequila tasting, premium beer tasting courtesy of Hensley, live music by Rakata and a cash bar.
Scottsdale Center for the Performing Arts is located at 7380 E. Second Street in downtown Scottsdale, four blocks south of Indian School Road and three blocks east of Scottsdale Road. For more information visit their website at www.scottsdaleperformingarts.org