To Clancy – It seems like Strawberry Fields Forever
By Curtis Riggs | September 3, 2008

More than 25 years in Cave Creek
CAVE CREEK – In a business where the merchandise gains value over time, Strawberry Fields owner Gregg Clancy recently achieved a milestone with his T-shirt business.

He has been in business at Strawberry Fields for over 25 years. In the time he has been a Cave Creek businessman he has put his mark on the community by creating T-shirts for many key community events and by making shirts for a number of local businesses that advertise Cave Creek.

He got his start in the business when he was helping to start the Desert Foothills Athletic Club. While he was completing the assigned task of finding uniforms for the local children, something clicked and he decided that was the business for him.

Twenty-five years later he is still in business in a adobe building on Cave Creek Road that was built in 1950.

He has designed the shirts for the Foothills 10-K race for 20 years. He also did the shirts for the more recent Cave Creek Film and Arts Festival and the annual Wild West Days community celebration.

"I helped the Foothills 10-K get started and in that time it has turned into a terrific race," he said. The Foothills 10-K is now 25 years old.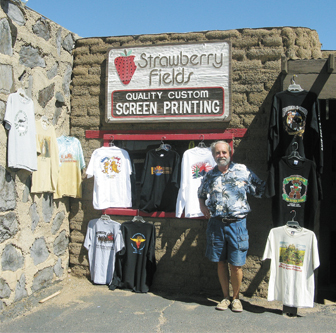 He has also designed the shirts for the Satisfied Frog, the Indian Village, the Horny Toad, the Buffalo Chip, Harold's and other renowned Cave Creek establishments over the years. His T-shirts range from the specialty tie-dyed ones that provide a retro look to ones that are so comfortable and beloved the wearer doesn't know how they would ever live without them.

"They're like walking billboards," he said about America's love of T-shirts. "They are comfortable and last a long time and give a person a chance to make a statement."
Clancy uses Performance Fabrics for his T-shirts that are lighter than cotton and help to whisk moisture away from the body.

While Clancy has put in the time helping to mark Cave Creek with his T-shirts, he has no problem remembering the most unusual items he was ever asked to make. He was hired to create the red panties for KUPD-FM Morning Mayor Dave Pratt, which were the rage a couple of decades back.

Clancy, who hails from north Phoenix ended up in Cave Creek in an unusual fashion. When he was still toiling in corporate America as a regional manager for a large chain of boutique stores, he and his wife, Susan, traded houses with some friends who were transferring to the Bay Area of San Francisco.

"I used to think that Cave Creek was at the intersection of Cave Creek Road and Dunlap," he said. "It was a pleasant surprise when I saw the real Cave Creek."

Strawberry Fields is located across from Frontier Town at 6220 E. Cave Creek Road. The phone number is 480-488-5493.

Photo caption: In the 25 years he has been in business as Strawberry Fields, owner Gregg Clancy has to look at the shirts to remember all the ones he has designed for Cave Creek events and businesses.

Photo by Curtis Riggs