Gunman update: Not looking so cocky now
By Linda Bentley | August 27, 2008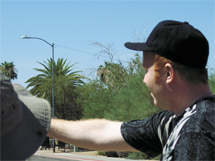 PHOENIX – The man who graced our front page on July 23 shoving a gun in the face of protester Lynne Stephens two days earlier, as he tried to grab her camera to prevent being photo-graphed picking up illegal aliens at the Macehualli Work Center near Cave Creek and Bell roads, has been identified as Garret Iain Beneker, 19.

Beneker was arrested by Phoenix police officers at 12:56 a.m. on Aug. 15.

He has been charged with one count of aggravated assault with a deadly weapon, a class 3 felony, and is being held at Maricopa County Jail in lieu of $18,000 bond.

When Beneker heard another protester call 911 he fled the scene, but not before protesters photographed his vehicle and license plate.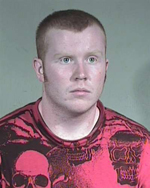 However, when Phoenix police officers attempted to locate the suspect, they said the address where the vehicle was registered was no longer valid.

That's not too surprising since Beneker was evicted for not paying rent at the Saratoga Ridge Apartments in November 2007 with a subsequent forcible detainer filed against him in December by United Dominion Residential Ventures for failure to pay rent at the Finistera Apartments.


(above, left) Courtesy photo/Brandy Baron
(above, right) MCSO booking photo