"Taste of Cave Creek" set for Thursday, Sept. 25 at Stagecoach Village

Town of Cave Creek and Cave Creek Merchants Chamber of Commerce to host special event in conjunction with 2008 Governor's Rural and Regional Development Conference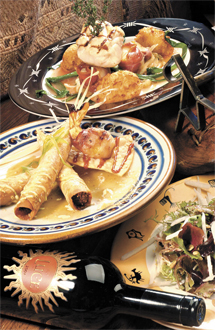 CAVE CREEK – The Town of Cave Creek and the Cave Creek Merchants Chamber of Commerce (CCMCC) are co-hosting a special "Taste of Cave Creek" event from 6 to 10 p.m. on Thursday, Sept. 25 at Stagecoach Village, 7100 E. Cave Creek Road, in Cave Creek. The event takes place in conjunction with the 2008 Governor's Rural and Regional Development Conference, which is jointly hosted by the towns of Carefree and Cave Creek and takes place Sept. 24-26 at Carefree Resort & Villas.

The "Taste of Cave Creek" event will feature flavorful taste samplings from nearly 20 restaurants, including: Big Earl's Greasy Eats, Binkley's, The Buffalo Chip, Cartwright's, El Encanto, Epicurean Palette, Harold's Cave Creek Corral, Hammerhead Jack's Boardwalk Grill and Desert Beach Bar, The Hideaway, The Horny Toad, Indian Village, Le Sans Souci, Tonto Bar & Grill, The Satisfied Frog and many others.

The evening also features two cooking demonstrations and a book signing by Mad Coyote Joe, a wine tasting at Brix Wine Spot, and live performances by rock band EastonAshe and country band Rondavous. Guests to the "Taste of Cave Creek" can also view original pieces of art that were submitted to the 3rd Annual Cave Creek Film & Arts Festival, a statewide competition that recognized talented artists in seven creative categories this past July.

"Cave Creek is known for its colorful characters, rich history, and relaxed lifestyle," said Cave Creek Mayor Vincent Francia. "We have an eclectic mix of residents so it makes sense that we have many types of cuisine to choose from. Come experience a slice of Cave Creek life and see why citizens are so proud of our town."

Now in its eighth year, the "Taste of Cave Creek" event is normally hosted by the Cave Creek Merchants Chamber of Commerce in the spring. Marc Peagler, CCMCC president, said the Merchants Chamber seized the opportunity to collaborate with the Town of Cave Creek to host the event in September.

"Many people know Cave Creek for its equestrian lifestyle and arts community, and thanks to events like this, more people are learning about our diverse selection of restaurants," Peagler, proprietor of The Satisfied Frog at Frontier Town, said. "On any given day, you can find barbeque chicken, steak, fresh pasta, seafood, Indian fry bread, savory appetizers and delicious desserts … all within our Town core. Not to mention our famous watering holes and cozy wine bars."

Cooking Demonstrations
Local celebrity chef Mad Coyote Joe will conduct two cooking demonstrations from 6:30 to 7:30 p.m. and again from 8:30 to 9:30 p.m. in front of Pages Bookstore at Stagecoach Village. A Cave Creek native who has achieved national fame, Mad Coyote Joe will show guests how to prepare Tequila Shrimp and an Eastern North Carolina Pulled Pork Sandwich with Tidewater Coleslaw, Fresh Spring Greens with a Tequila, Fire-Roasted Chile Buttermilk Salad Dressing. He will also demonstrate how to make "The Stevie Ray" beverage.
"I make this excellent drink in honor of the great American Blues legend, Stevie Ray Vaughan," Mad Coyote Joe said. "The use of Partida Blanco, a premium 100 percent Blue Agave Tequila is essential in making this amazingly refreshing cocktail. Like its namesake, "The Stevie Ray" is smooth and bold at the same time. When mixing a few of these up, you might want to dust off that old copy of The Essential Stevie Ray Vaughan and Double Trouble. May I suggest disk 2, selection 17, Life by Drop."

During intermission, Teresa Thompson of Cave Creek Coffee Company will discuss wine pairings for Mad Coyote Joe's dishes. Following each cooking demonstration, Mad Coyote Joe will also sign his books, "A Gringo's Guide to Authentic Mexican Cooking" and "The Sonoran Grill" at Pages Bookstore.

More Festivities
Several local non-profits will also participate in the "Taste of Cave Creek" event. In addition, Cave Creek Wild West Days featured artist Lance Headlee will be at the event to sign limited edition prints of his piece, entitled "Lean on Me." Sponsored by the Cave Creek Merchants Chamber of Commerce, Cave Creek Wild West Days takes place Friday, Oct. 31 through Sunday, Nov. 2 throughout the entire Town of Cave Creek. An acclaimed painter from Anthem, Headlee's bold, sophisticated and captivating contemporary paintings have attracted collectors worldwide. With shadowed eyes, weathered chaps, twisted ropes and flowing trench coats, Headlee creates a fresh dynamic look of the old west. Headlee's original painting "Lean on Me" was inspired by Bill Withers' 1972 hit song and depicts an evocative scene of a cowboy embracing a cowgirl. Unsigned prints cost $20; signed prints cost $30.

Tickets to the "Taste of Cave Creek" event cost $25 and are available at Cave Creek Cowboy Company, Harold's Cave Creek Corral, Indian Village, The Satisfied Frog, or by calling (480) 437-1110, or online at www.cavecreekchamber.org. Credit cards are accepted.