Lane says its time to reassess preservation efforts
By Curtis Riggs | August 27, 2008

Up against Manross, Crawford on Sept. 2
SCOTTSDALE – With the Sept. 2 primary elections less than a week away the focus has shifted from discussions about height and density to how best to complete the McDowell Sonoran Preserve by acquiring more State Trust Land.

City Councilman Jim Lane will be opposing two-term incumbent Mayor Mary Manross and write-in candidate Bill Crawford in his bid to become the next mayor of Scottsdale. Eight candidates for City Council (including incumbents Betty Drake and Ron McCullagh) will be vying for three open council seats in the primary and general election.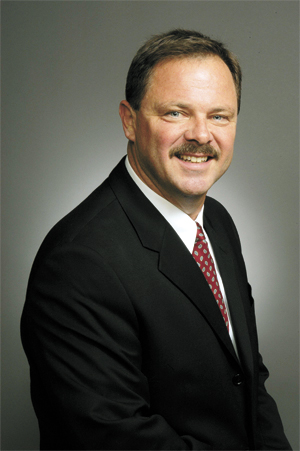 "The campaign talk has shifted to completing the preserve," said Lane, who asked for a progress report from the Preserve Commission at last week's (Aug. 18) City Council meeting.

"There is a void about the recommended strategy and the progress coming from the Preserve Commission," he said in explanation of his request for an update. "There is now a divergence of opinion if the committee even has a formal strategy."

He believes now is the time to move forward with preserve efforts.

"Proposition 103 (the latest attempt at State Trust Land reform) changes the equation," he said, adding Scottsdale's preservation efforts are, "dependent on some State Land reform taking place."

He wants the Preserve Commission to develop a strategy about completing the preserve for presentation to the Scottsdale City Council and Scottsdale citizens.

"We can get started, but we need to have a strategy. The first thing would be to figure out if we have the money to take care of it. Then we should ask the financial people for the right information," he said regarding the $460 million in bond capacity, which can be used to establish the preserve.

He suggests there are "innovative ways" to come up with the rest of the money needed to purchase the land.

Some say it could cost $1 to $2 billion to complete the preserve. Lane is quick to point out Scottsdale has only acquired 10 acres of State Trust Land that will be included in the preserve.

"The State Land Department is probably losing its patience with Scottsdale," he said.
Lane faults Manross for signing an agreement, which was not approved by the City Council, for the Hualapai land lease to extend the Scottsdale water campus. He said this will cost the city another $7 to $8 million because someone has found an additional $10 million in the value of the property.

"Now we'll have to condemn it," he said.

He is concerned about this transaction because he has heard Manross has drafted another letter agreeing to buy land slated for the preserve.

"Are we doing this again?" he asks about Manross committing the city without the council's approval.

To explain how the effort to establish the preserve went awry several years ago, he points to the settlement in the Toll Brother's case, which cost Scottsdale $50 million and the expense of litigating it for several years.

Courtesy photo