Cave Creek murder suspect also charged with arson, animal cruelty

By Linda Bentley | August 20, 2008

CAVE CREEK – Last week's update on the Cave Creek murder of Mary Elizabeth "Liz" Hermann inaccurately stated Justin Wade Lunsford had been released on $600,000 bond. Sonoran News misinterpreted court documents that appeared to indicate Lunsford had been released on bond, whereas a minute entry stated if Lunsford were to violate the conditions of release set forth by the court it would result in revocation. However, that was only stated for the record in the event bond was posted, not a confirmation that bond had in fact been posted.

As of this writing there are 384 comments posted, the last one as recently as 14 hours ago, in just one of the ongoing Cave Creek forums on Topix.com, most are from friends and family of both the murder victim and suspect, including Brittany Tarver, 21, Lunsford's ex-wife.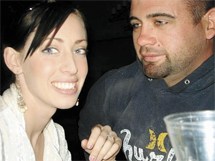 On several forum threads, Tarver and a few family members of Lunsford's stand firm that he could not have committed the crime.

John Lunsford, a cousin from La Porte, Ind., agreed with Tarver, and wrote, "she is right my cousin could never have done it and all will have to say sorry when the facts all finally come out."

Another post by Amanda Mack stated, "I just can't picture Justin doing this. Justin is not a monster. He hasn't been proven guilty."

The next post, responding to Mack from "Friend of the Family" in Tucson, wrote, "He hasn't been proven guilty, but at the very least he has admitted to moving the body and setting the house and car on fire. That doesn't exactly scream innocence."

While the thread degenerates for the most part into personal attacks by former Cactus Shadows classmates of Tarver's and by those who believe Lunsford is guilty against those who claim he is innocent and vice versa. Many repeatedly refer to Lunsford as a "monster."
There was a disturbing comment posted on the thread by "Sea Glass," stating, "Liz's dog was murdered. Her friend found him still in the back yard. He was in attack mode and he had a broken jaw and stab wounds all on his chest as if the attacker was trying to get him off of him. Her friend was devastated to see the violence committed on this dog. Her friend said that she knew from the looks of the dog the violence that went on."

"One who knows," later posted, "The only thing I wish is that Sion Liz's dog would of (sic) been successful in attacking the beast but instead he became a victim along with Liz …"
Another poster, using the moniker "question," from Scottsdale said he'd been following the case and read a couple of times on the same thread that "her poor dog was in 'attack mode'" and wondered if anyone knew if Lundsford had any injuries consistent with the dog trying to protect the house and his owner.

"One who knows" responded, "Don't know if Sion was at mid-lunge during his attack and was killed prior to the attack or the police may also have gathered DNA from Sions paws and that will come out during the trial. We will probably know the answer to that once the trial takes place."

Sources say a cat was also found murdered at the scene.

Tarver told Sonoran News over a month ago, and continues to claim in the ongoing forum thread, two other people have been arrested in conjunction with Hermann's murder.

However, the Maricopa County Sheriff's Office denies any other arrests have been made in conjunction with this case.

While verifying that Lundsford was in fact still incarcerated in lieu of $600,000 bond, Sonoran News also learned additional charges have been filed against Lunsford since his arrest on the first degree murder indictment.

Lunsford is now also facing one count of arson of an occupied structure, one count of arson of property and two counts of cruelty to animals.

Last week the prosecution filed a notice to the court of allegations of aggravating circumstances other than prior convictions.

Photo caption: Brittany Tarver is pictured here with her ex-husband Justin Lunsford, sometime during their marriage and before he was indicted for the murder of Mary Elizabeth "Liz" Hermann. Tarver insists Lunsford is innocent and says she has been in regular contact with him since he was arrested.
Courtesy photo