My View
By Don Sorchych | August 6, 2008


Peter Dimitri Petroff

While at my first professional job after finishing college, with Radiation, Inc., I met many characters. Peter Petroff is high on the list.

Peter literally sailed, well motored, into the town of Melbourne, Florida on the intercoastal waterway (called the Indian River in those parts) in a catamaran he designed and had built while working for an international construction firm in Vietnam.
He got there in a circuitous way.

Peter was Bulgarian with a pot belly, long jet black hair, penetrating brown eyes, a swarthy complexion and a heavy accent. He was the most pragmatic man I ever met and among the most amoral.

The obituary, which was published upon his death, differs in so many ways from what he told me and what I heard from mutual friends that I can only go by my recollections.
When he died, his old boss at Radiation, Jack Pruitt, called me and urged me to write Peter's story as he laughed about the obit's claim he had invented the electronic watch.

Peter told me he had been captured by the German army and conscripted into military service as a Nazi soldier. At war's end, the Bulgarian government offered a short period of amnesty, but after that anyone who had served in the German army would be declared a war criminal.

The Canadian government offered a visa and he immigrated there. He joined an overseas construction company and while in Vietnam designed and built his catamaran. He had the catamaran shipped to Canada, and went south on the intercoastal waterway with his wife and two sons.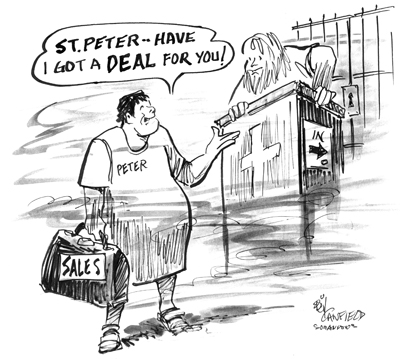 Peter was always lucky and after berthing in the Melbourne city harbor, his unique catamaran was noticed by George Shaw, the co-founder of Radiation.

George always had yachts and after a tour of the boat with Peter he pulled strings to get him a position at Radiation. This chance meeting gave Peter access to executive row at the company and he never ceased to use it.

I met him when I was leading a group that designed the telemetry for the Apollo project and several missile systems. Peter worked in the mechanical design group and concentrated on miniaturizing the size and weight of electronic modules. He may have invented a foam encapsulation method, which became a standard for our designs for a number of years. But he may have copied from somewhere too.

As a friendship developed he spoke of his days as a Nazi soldier with great pride. He thought Adolph Hitler was a legend whose only mistake was to show, rather than hide, his prejudice for Jews and people of color. He thought that it was "stupid" of him but not wrong.
He told me he figured out the American system. He said, "Donalt, all I haf to do is mofe jobs enough times und get 15 percent each time und I can double my vages in six mofes."

He soon left and joined a Radiation spin-off in Orlando, Florida with a 25 percent boost in pay. He took with him bundles of designs and know-how. Although there was a furious exchange of letters from attorneys of both companies, nothing ever came of it.

After a year or so I received a call from a NASA recruiter. Did I know Dr. Petroff?" I replied, "I know Peter Petroff." She wanted to know more about the research projects he headed. I explained he designed mechanical modules for electronics. She was adamant that he managed major electronics research projects and was quite upset I didn't agree.

Next day a distressed Peter called me and asked why I didn't lie. Having no answer from me he asserted, "You are a goddamned Boy Scout!" and hung up.

Nonetheless, he was appointed to Director of Research at NASA Huntsville, Alabama.
While there he negotiated contracts with companies, ostensibly to monitor vital functions of astronauts. Later he founded Care Inc, a patient monitoring company using the technology lifted from the NASA contracts.

He and his lovely German wife Helen came to visit after incorporation of Care Inc. in a brand new Lincoln. He proudly showed me his list of stock holders and his majority holdings, including some of Werner von Braun's scientists.

I am sure Care Inc. went belly up, but his obit said it "became" Electro Data and it was there that the first electronic watch was invented. I don't think so, and further, if it was, Peter had no electronic skills. None.

Later, he and his sons started an environmental monitoring company. That was the last I heard from him.

His obit states: "He joined the space projects carried out by the precursor of Harris Corp, (Radiation, Inc.). He helped design weather and communication satellite systems and organized the company's semiconductor division."

Not exactly.

Peter designed mechanical assemblies. Period.

And as far as the semiconductor division, which I later managed, it never would have existed without Peter. Peter was viewed as an expert in microminiaturization. And he correctly argued integrated circuits, then in their infancy, would be the ultimate solution in future systems.

With his connections in the executive suite, he badgered and bullied them, virtually wearing out the carpet in visits followed by lunches in the company cafeteria. He was the ultimate salesman, bright, persuasive and persistent.

His heavy accent helped too. His friendship with company co-founder George Shaw was key as George was a sizable share holder and equally persistent. Executive row rocked with dissent, but Shaw's booming voice could be heard arguing the strategic necessity.
It was a huge risk for a small company, which at that time was a 100 percent U.S. government contractor.

Finally the decision was made to proceed, solely due to Peter's persistence. So, although he never "organized" the division as stated in his obit, it wouldn't have happened without him.
I have already written the next chapter, the hiring of Uryon S. Davidsohn to head the semiconductor division and his ultimate demise and ghastly death.

Peter, I am sure you conned St. Peter to let you through the pearly gates to the heavenly realms.

R.I.P.