Citizens misled into signing 'Stop Illegal Hiring' petition

By Linda Bentley | August 1, 2008

Imigration Reform Law Institute poised to sue
ARIZONA – The Immigration Reform Law Institute (IRLI) is investigating a possible law suit to disqualify the Stop Illegal Hiring (SIH) initiative from appearing on the ballot.
MORE...



Historic trees on Cave Creek Road leveled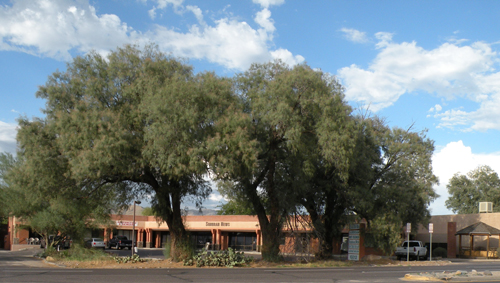 For about eight years we at Sonoran News have fought to protect the three 80 to 100-year-old trees which lined Cave Creek Road where our office resides at 6812 E. Cave Creek Road.
Several years ago we ran a poll and the results were overwhelmingly in favor of saving the trees.
Ricardo Bonucelli, our landlord, hired an arborist, whom Bonucelli quoted as saying the trees were a danger and were dying.
We were given notice at 4 P.M. the day before the eradication was scheduled. Linda Bentley called town arborist Glenn Fahringer who never returned the call.
The trees may date back to the early 1900s when they were planted for shade when Tuberculosis cabins were built in this area.
Those trees are irreplaceable. We will miss them and based on the calls, visits and emails we received, so will many others in the community.
Photo by Don Sorchych

Appeals court upholds Ramos and Compean convictions
By Linda Bentley | July 30, 2008
NEW ORLEANS – On Monday the U.S. Court of Appeals for the Fifth Circuit issued its opinion in the case of Border Patrol agents Ignacio "Nacho" Ramos and Jose Compean, affirming all convictions except those for tampering with an official proceeding, which the court vacated and remanded for resentencing.
MORE...
Three-way primary to decide new Desert Ridge JP
By Linda Bentley | July 30, 2008
PHOENIX – Due to an oversight, last week's article, "New Desert Ridge Justice of the Peace post up for grabs," failed to mention a third candidate, Attorney William "Bill" Ponath, running in the Sept. 2 Primary Election for justice of the peace for the newly-formed Desert Ridge district.
MORE ...
Carefree hurrying downtown project to be ready for season
By Curtis Riggs | July 30, 2008
CAREFREE – Town council is so anxious to begin work on downtown lighting and traffic plans it could not wait a week for the regular August meeting to award contracts for the projects, scheduled for completion by mid-September.
MORE ...
Keeping watch
These pickups were made in the GSOTHEC parking lot in mid-July.
MORE...