New Desert Ridge Justice of the Peace post up for grabs
By Linda Bentley | July 23, 1008

Candidates have logged plenty of hours in court, one as a lawyer, one as a defendant
PHOENIX – There will be a new Desert Ridge Justice of the Peace Court at the Northeast Regional Court Center at 40th Street and Union Hills Drive that will primarily serve legislative districts 6, 7 and 8.

Since the Northeast Regional Court Center opened, Cave Creek residents on the west side of town were surprised to learn they were under the jurisdiction of a justice court in the Northwest Regional Court Center all the way out in Surprise.

The new Desert Ridge Justice Court will fix that. However, in order to open a new justice court, a new justice of the peace needs to be elected.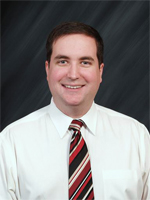 Licensed to practice in California and Arizona, Paul Henderson, a private practice attorney, is running for the post in the upcoming Sept. 2 primary election against Clancy Jayne, a former one-term state legislator.

Both candidates have spent countless hours in courtrooms, Henderson as a lawyer, Jayne as a defendant.

Henderson, 29, has practiced law in Maricopa County for the past three and a half years in these very justice courts, representing clients with property issues and commercial transactions.

He also has a year of insurance litigation under his belt and served as a judicial intern with the California Court of Appeals.

Jayne's petitions were challenged in 2005 when he attempted to run for reelection to the legislature and proved Jayne fell far short of the required number of valid signatures to be placed on the ballot.


However, he apparently had plenty of signs made up for that run, as evidenced by the "Paid for by Jayne 2006" disclosure. That was his state political action committee name.

His signs are plastered all over the place to "Elect Clancy Jayne" but they don't state what he is running for.

The semi-trailer with Jayne's name on it is again parked along I-17.

Jayne is apparently running on a platform of name recognition.

Readers may recall, as Sonoran News has previously reported, while Clancy Jayne, 58, was serving in the legislature he and his wife Kathleen still had seven unpaid federal income tax liens.

Kathleen had a prior history of writing bad checks and was convicted of theft for forging and cashing over $8,000 in checks when she worked for APS. It was one of the only years the Jaynes did not have a federal income tax lien. She's since had the judgment set aside.

Jayne founded North Valley Partnership in 1999 that was supposed to provide management of the North Valley Festival held on the Turf Paradise Race Track grounds and provide scholarships to high school graduates in need.

By 2003, his nonprofit organization was dissolved by the Arizona Corporation Commission for failure to file annual reports. That also meant there was no financial disclosure as to whatever happened to the money left in the bank account and it remains in question to this day.

Jayne, who claims to be a consultant, has a trail of financial missteps in his background. Just about everything he boasts of in his online biography has a lawsuit, judgment, lien or failure attached.

The Jaynes recently got out from yet another notice of trustee sale on their home. While the Jaynes were not paying their taxes, he boasts of having co-written Proposition 400 that extended the half-cent sales tax for another 20 years.

Jayne claims he served on school district committees for bond measures, again supporting more taxes while not paying his.

Jayne's bio concludes with, "Returning to school is an important commitment I've made to continue to grow and improve our professional capabilities. Once the time management is established we will take that knowledge back to radio."

If Jayne is planning to return to school, folks might agree it's a good idea. Some may recall some of Jayne's e-mails that were forwarded to a Phoenix newspaper a few years back revealing his lack of literacy, i.e. use of the word "spook" as the past tense of "speak."

Top photo: Paul Henderson
Bottom Photo: Clancy & Kathleen Jayne
Courtesy Photos