Film & Arts Festival Coyote winners honored at gala event
By Curtis Riggs | July 23, 2008

Harold's hosts Cave Creek's Oscars
CAVE CREEK – The yearlong Cave Creek Film and Arts Festival celebration culminated with an evening of film, photography, art, music, dance and literature on Saturday at the third-annual Coyote Awards Ceremony, which was held at Harold's Cave Creek Corral.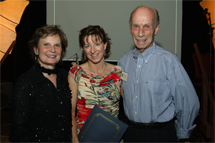 Over $30,000 in prize money was awarded at the third annual awards gala, which was attended by over 400 people. Winners in the seven categories received cash prizes of up to $1,500.

This year several of the top winners in both the youth and adult divisions were from outside the Desert Foothills because of the effort the festival committee made to market the contest statewide. Longtime Cave Creek Mayor Vincent Francia cites the record 346 entries this year as an indication the festival is indeed becoming known statewide.

"It is very exciting to see how Arizona is embracing this event. The caliber of talent among all creative categories was truly phenomenal," he said. "The festival has a life of its own and I have no doubt it will grow in 2009."

The star-studded evening flowed like the Academy Awards, but instead of Oscars, first-place winners received Coyote Awards, which were designed by local artist Judy Darbyshire.

Along with the Coyotes, first-place winners in the seven different creative categories received $1,500 in the adult divisions. First-place winners in the youth divisions won $1,000.
"Congratulations to our 2008 Coyote winners and thank you to all those who entered this year's competition," said festival committee chairwoman Judy Bruce. "Community support from local merchants and organizations was outstanding. We are grateful to our sponsors and the many volunteers who made this event so successful."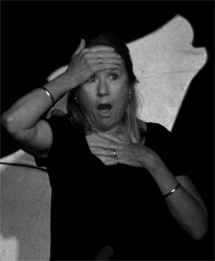 Adult first-place winners were: Stephen Krystek (Phoenix) in the film category, Marvin Seiger (Scottsdale) in the photography division, Ann Otis (New River) in the visual arts division, Stan Fidel (Scottsdale) for best original song, Daryl Scherrer (Gilbert) in poetry, Virginia (Ginnie) Brooks (Carefree) for her short story and Carley Conder (Tempe) in the choreography division.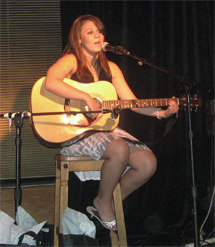 First-place winners in the youth divisions were: Spenser Robert (Scottsdale) for film, Rachel Hill (Scottsdale) for photography, Jordan Barcon (Miami) in visual arts, Melody DiSalvo (Cave Creek) for original song, Stephanie Ochs (Tucson) for poetry and Alea Becwar (Cave Creek) in the choreography division.

Cave Creek painter Randy Galloway won the Bobbi Tunstall Memorial Award and the $500 in prize money for the best piece of Southwestern art in the festival.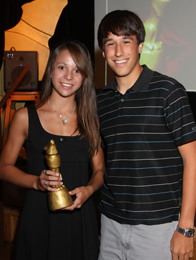 Scottsdale painter Beth Cox won $1,700 for the Spirit of Cave Creek award, sponsored by the Sonoran Arts League.

Saturday during the awards gala, film chairperson Matthew Bonnstetter announced a new awards category for next year's festival called Sustainable Solutions for Arizona.

"The new awards will be for documentary films that focus on sustainable solutions for Arizona and its citizens," Bonnstetter said. "Our intent is to attract films that will entertain and educate in ways that will support and nurture sustainable solutions for our generation and generations yet to be born."

Top photo caption: The Spirit of Cave Creek award, sponsored by Sonoran Arts League, went to Beth Cox (center). She's flanked by Festival chairwoman Judy Bruce and SAL president, Ralph Deuschle.
Courtesy photo/Ben Arnold

Photos of winners (from top to bottom): Virginia Brooks, Melody DiSalvo, Stephania Ochs and Alex Lazo.
Courtesy photos:David Crozier & Ben Arnold
Festival sees unexpected excitement

The crowd of 400 at Saturday's Cave Creek Film and Arts Festival Coyote Awards gala could have assumed a famous rock star or politician was making a grand entry. Shortly before the start of the event a helicopter landed on Cave Creek Road just outside the restaurant. As it turned out the Life Flight helicopter arrived to transport a Harold's patron to the hospital after she fell and hit her head in the parking lot. Rural/Metro and the sheriff's deputies also responded to the incident. The victim was said to be conscious when the helicopter arrived. Other information on her condition was unavailable.

Photo by Curtis Riggs