Sonoran Arts League adds spring show at Stagecoach Village to roster

By Curtis Riggs | July 2, 2008

CAVE CREEK – The Sonoran Arts League is adding another spring arts festival to its roster of annual events.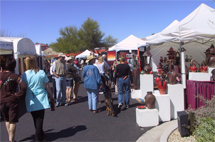 The planned festival, which will be held at Stagecoach Village on President's Day weekend (Feb. 20 – 22, 2009), is so new S.A.L. leaders have yet to choose a name for it. Stagecoach Village is a large retail center at the northwest corner of Cave Creek Road and Galloway Drive.

S.A.L. President Ralph Deuschle said league members were anxious to hold a spring festival at Stagecoach Village because its common area is a perfect location for an art show. The February show will join the Sonoran Festival of Fine Art, which is held in the Carefree Town Center at the end of March, as the league's spring events.

According to Deuschle, adding another festival to the league's annual slate of events, which includes the November Hidden in the Hills art studio tour and the Empty Bowls hunger benefit, is another way to increase exposure for the 430 league artists.

"The festival in Carefree always goes so well, but it is so late in the season," Deuschle said. "If we have a festival in February, everyone will still be here for the winter."

League artist and board member Michelle Russell will be the chairwoman of the new spring festival. She will also head up the Sonoran Festival of Fine Art next spring.

She said the new spring festival will feature the same high quality art as the Festival of Fine Art, but that each event will be different.

"The February show will feature a variety of work, both traditional and contemporary, along with some artist demonstrations," she said. "We're also looking into incorporating different entertainment and activities than we provide during the April event."

The league is currently seeking artists to apply to be juried into the February show. Festival organizers are also asking S.A.L. artists to submit art, which can be used to promote the February show. Anyone interested should contact Russell at
602-866-9849.

S.A.L. board advisor, and Cave Creek sculptor, Alan Hochman said league artists have long wanted a show earlier in the season and that weekends are hard to come by in Carefree because of the Thunderbird Art and Wine Festivals held there.