Caltrans ordered to reinstate Minutemen's Adopt-A-Highway stretch
By Linda Bentley | July 2, 2008

Caltrans attempted to skirt issue by 'suspending' program
SAN DIEGO – Last week, courts on opposite seaboards, issued back to back decisions in favor of constitutional rights.

The U.S. Supreme Court's decision declaring Washington D.C.'s gun law unconstitutional last Thursday was followed by U.S. District Court Judge William Q. Hayes, for the Southern District of California in San Diego, issuance of a preliminary injunction against California Department of Transportation (Caltrans) officials in favor of the San Diego Minutemen (SDMM) on Friday.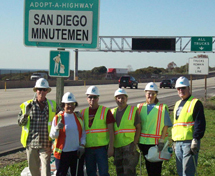 Explaining the purpose of a preliminary injunction is not only to prevent activities from taking place but to preserve the status quo, meaning "the last uncontested status that preceded the parties' controversy," Hayes said, at the very least, the hardships tipped sharply in favor of the plaintiff.

He granted plaintiff's motion for preliminary injunction, requiring Caltrans to reinstate SDMM's permit for the AAH Program segment along I-5 and reinstall its courtesy signs during the pendency of the litigation.

Last November, Caltrans approved an AAH permit for the SDMM, sent founder Jeff Schwilk a letter welcoming the organization to the program, and assigned them to a two-mile area along a northbound stretch of I-5 adjacent to the San Clemente Border Patrol checkpoint.

The Minutemen received training, safety vests, etc. and performed their first cleanup event in January, without a hitch.

However, no sooner did the SDMM AAH courtesy signs go up, Border Angels and Gente Unida founder Enrique Morones, who holds dual Mexican-American citizenship, said he would see to it the signs would come down, declaring there was "no way we were going to let these hate groups promote themselves on our freeways."

Morones contacted the California Latino Caucus, Caltrans, the governor's office, Latino legislators and open borders advocates to demand the signs be removed.

He then claimed not only was he able to convince Caltrans it was violating its own policy of denying groups that promote violence and discrimination from participating in the AAH Program, but that it was also a "huge security and safety risk to allow these signs and members of the SDMM to 'work' alongside our roads."

Morones later thanked Assemblywoman Lori Saldana, D-San Diego, Sen. Gil Cedillo, vice chair of the Latino Caucus, and others "for responding promptly to this 'huge oversight' by Caltrans," which assured Morones the signs would be removed.

Subsequently, Schwilk received a letter from Caltrans District Director Pedro Orso-Delgado stating, "The location of your existing AAH permit has raised questions regarding public safety due to the proximity of your assigned highway segment to a U.S. Border Patrol facility that is co-located with the CHP San Clemente Inspection facility."

Orso-Delgado, who bought into Morones allegations that the group's participation at the assigned location posed significant risk of disruption to the operation of the state highway, as well as public safety concerns for both the traveling public and participants in the AAH Program, told Schwilk the SDMM's AAH permit "is hereby modified and the related courtesy sign will be moved," and stated there was another "more suitable location" along State Route 52 near Santee for assignment to the SDMM under the program.

Citing the program's eligibility criteria, with regard to entities that advocate violence, violation of the law, or discrimination based on race, religion, color, national origin, ancestry, etc., Orso-Delgado then advised Schwilk that Caltrans was examining allegations made about the SDMM, and said the agency would conduct the review, "in an expeditious fashion," to determine SDMM's eligibility to participate in the program.
Prior to sending his letter to Schwilk, however, Orso-Delgado first sent a letter to "El Grupo," a coalition of the complaining organizations, thanking them for their comments, telling them of Caltrans' decision to relocate SDMM's AAH to another location and that it would review their allegations to determine if the Minutemen violate guidelines for appropriate participation in the litter cleanup program.

On Feb. 4, the SDMM sued Caltrans, Orso-Delgado and other officials involved, in both their official and individual capacities.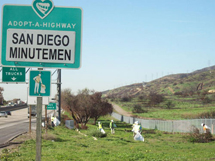 SDMM Attorney Lowell Robert Fuselier of Kaloogian & Fuselier LLP, wrote, "Proponents of an opposing political viewpoint have exercised a 'heckler's veto' in opposition to the content and viewpoint of the SDMM sign with sufficient influence to persuade Caltrans to silence the Minutemen by removing their name from public view at the San Clemente Immigration Checkpoint."

One week before Hayes ruled on the defendants' motion to dismiss and plaintiff's motion for preliminary injunction, Caltrans attempted to skirt the issue completely by announcing it had "suspended" its AAH Program for the purpose of re-evaluating the program's guidelines, although Caltrans spokesperson Steve Saville insisted the suspension had nothing to do with any specific incident or group.

The court seemed to think otherwise, as Hayes chastised the defendants for contending the public's interest in "safety and operational concerns" outweighed any "minimal First Amendment rights laid claim to by plaintiff," stating, "The Supreme Court has made clear that 'the loss of First Amendment freedoms, for even minimal periods of time, unquestionably constitutes irreparable injury' for purposes of the issuance of a preliminary injunction."

Caltrans then claimed it needed to remove all AAH Program segments near law enforcement facilities because of traffic concerns and safety risks.

"The problem with defendants' second justification is two-fold," said Hayes, "First, the justification is not supported by the evidence in the record … The second problem with defendants' justification that safety concerns forced defendants to remove plaintiff's segment from the AAH Program pursuant to a plan or policy of removing all AAH Program segments near law enforcement facilities from the AAH Program, is that defendants have not, in fact, removed all segments of the AAH Program near law enforcement facilities from the AAH Program. Rather, defendants have allowed all AAH Program segments near law enforcement facilities, except for plaintiff's segment, to remain in the AAH Program until the current permitee lapses or leaves the AAH Program."

He also noted the SDMM were not given an opportunity to remain at their assigned segment until its permit lapsed, and it was undisputed the plaintiff did not voluntarily leave the AAH Program.


Photo Captions:
(top) San Diego Minutemen, seen here in January ready to perform their first cleanup event along an assigned segment of I-5 adjacent to a Border Patrol checkpoint, had its permit revoked and associated signs removed by Caltrans, due to pressure from Latino open-borders advocates. On Friday, a federal judge ordered them reinstated.

(Lower) San Diego Minutemen, seen here picking up trash

Courtesy Photo/San Diego Minuteman