Future NBA/WNBA stars enjoy Basketball Shooting Camp
By Pete Mohr| June 18, 2008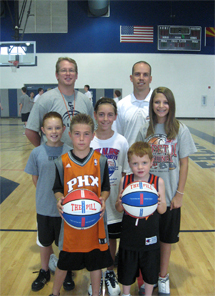 CSHS – Readers are familiar with the oft-used adage, "Timing is everything!" Try this: on Thursday, June 12, Nick Nurse and Nate Bjorkgren, head coach and assistant coach, respectively, of the NBA Development League's Iowa "Energy," flew from Des Moines to Phoenix for their June 13-14 "Shooting Camp" at Cactus Shadows. Earlier that day, the Phoenix Suns had announced that their Development League new affiliation (changed from Albuquerque) would be with the "Energy." The Suns will share the "Energy" tie with the Chicago Bulls.

The two-day "Shooting Camp" was successful, with over 100 young hoops aspirants participating. Nate Bjorkgren to Sonoran News: "It was great to be back at Cactus Shadows! Coach Nurse and I want to thank all the kids – and their parents – for coming out. We certainly hope to be back next year."

In the accompanying photo, young Mark Marando, 7, is front right. He was in the watchful company of his uncle, Jim Marando, who will rejoin the Mathematics Department at CSHS in August. Sonoran News is pleased to welcome back a friend – and the courtside voice of the Basketball Lady Falcons!

Photo caption: NBA OR WNBA? Could happen! At last Saturday's "Shooting Camp", co-directed by Iowa "Energy" Head Coach Nick Nurse (back, left) and Assistant Coach Nate Bjorkgren (back, right) were (front, l-r) Dylan Haverman, Mark Marando; (middle, l-r) Gabby Windsor, Abbey Roberts and Kelly Aholt.
Softball is summer rollin'!
By Pete Mohr| June 18, 2008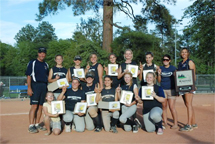 At the end of their '08 season, Lady Falcon Softball had the "mo"(mentum). They're working hard to keep it. Early this month, the 16U Falcon Fastpitch placed 1st in the Payson Tournament, "mercying" Scottsdale's Heatwave, 13-0 – then edging the Globe Kaos (as in "Chaos"), 5-4, in the championship game. Leading the hit parade for Coach Danica Giani were Carey Riner, Tia Jorde, Elyssa Hartsock and Gracie Goulder. "And our defense was spectacular," Coach Gianni praised.

Pictured are: (back row, l-r): Asst. Coach Bill Ferguson, Elyssa Hartsock, Lauren Clepper, Candace Irons, Gracie Goulder, Tia Jorde, Katrina Poulos, Alli Bernard, and Coach Danica Gianni; (front row, l-r): Gabriella Gianni, Kilee Ferguson, Carey Riner, Sophie Turchiano, Samantha Franke, and Kristin Hillier.

The "FastGals" are currently 2nd (behind Desert Mountain) in the two-games-per week Tempe Summer League. They'll be off July-August before starting their fall schedule in September. Come February 2009, look for the Lady Falcons to be locked and loaded!

Courtesy Photo