It's still illegal to be illegal in Cave Creek
By Linda Bentley | June 18, 2008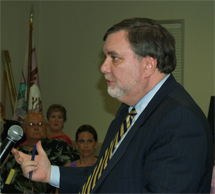 Town Attorney Gary Birnbaum reported on the recent ruling by U.S. District Court Judge Roslyn O. Silver, who issued a preliminary injunction against the town's solicitation ordinance challenged by the ACLU and MALDEF and provided council with its available options in light of that ruling.


CAVE CREEK – Town Attorney Gary Birnbaum reported on U.S. District Judge Roslyn O. Silver's ruling that granted a preliminary injunction against the town's solicitation ordinance in a complaint brought by the ACLU and MALDEF, during Monday's council meeting.

He explained Silver's conclusions were based on two findings; 1) the ordinance was not content neutral and, 2) it was not narrowly tailored.

"We took a position it was content neutral because the language was taken verbatim from the Phoenix "ACORN" ordinance," said Birnbaum.

While the town took the position it was a traffic safety issue, Silver said she found nothing in the comments to convince her it was about traffic safety.

According to Birnbaum, the problem with the ordinance was in prohibiting specific types of solicitation, making it a free speech issue rather than the conduct issue in ACORN.

He explained the town's options and pointed out a preliminary injunction indicates the direction the ruling is headed.

With that in mind Birnbaum told council it could immediately appeal the preliminary injunction, although he said the likelihood of winning on appeal, based on the judge's ruling, was not good.

He said they could also appeal after she rules on the merits, which he said also did not have a high likelihood of success and could expose the town to the other parties' attorney fees.

The third option was to not pursue an appeal and either stipulate for a permanent injunction or rescind the ordinance.

Birnbaum also mentioned the town might want to wait and see what happens with HB 2412, sponsored by Rep. John Kavanaugh, R-Dist. 8, a bill amending the criminal trespass statute to address day laborers that stand or remain unlawfully on any public highway or street and disrupt vehicle or pedestrian traffic for the purpose of soliciting day labor employment.

However, he said the bill was currently stalled in the House and waiting for reconsideration and, because it is an anti-solicitation bill, it could be subject to the same challenges.

Another option he said the town could consider would be to craft a new ordinance that is narrowly tailored to deal with conduct, not speech.

Councilwoman Kim Brennan asked, if the town were to appeal, "Would it go to the same judge?"

"No," said Birnbaum, "It would go to panel of three judges.

Councilman Ernie Bunch asked about the nature of the town's contact with Judicial Watch.

Birnbaum stated they met with Judicial Watch, which offered to supply them with briefs, "most of which we already had."

He also said Judicial Watch had a different goal.

During public comment, Sonoran News Publisher/Editor Don Sorchych said, "I don't believe Judicial Watch was adequately considered. If it turns out I'm wrong, I'll apologize."

Janet Mohr said, "After listing to Gary, why are we even here? Even the judge said we have other laws … We need to think this through," as she pondered aloud how it is still illegal to be here illegally, to work here illegally, hire illegally, etc.

Mohr said, "Apparently there was enough of a problem that people came to you."
Gary Kiernan said, "We keep seeking new laws. We already have enough laws. We crafted an ordinance."

He said it was ridiculous to pretend the ordinance passed to deal with illegal aliens was about something else, which Birnbaum indicated by saying Judicial Watch had another goal, adding, "Don't pee on my leg and tell me it's raining. We don't need to spend more money to be politically correct."

Councilman Dick Esser's motion to appeal failed by a vote of 2-5, with Esser and Vice Mayor Gilbert Lopez voting in favor of the appeal.

Councilman Ernie Bunch said after reading the judge's ruling, he couldn't see throwing good money after bad.

Mayor Vincent Francia compared the lawsuit to gambling on a horse race and said, "This is not my money."

Francia said he spoke to Chris Farrell with Judicial Watch earlier in the day and stated Farrell was quite candid with him about the lawsuit.

"The judge addressed individual rights. She did not address our rights as a town," said Francia.

Esser said, "I guess we can watch HB 2412."

Councilwoman Grace Meeth, who was prepared to vote for appeal before hearing from Birnbaum, said she'd rather not wait, preferring to draft a new ordinance as Birnbaum suggested.

Francia's motion to direct the town attorney to stipulate to a permanent injunction or take other action to terminate the case and continue to work on a new ordinance passed by a vote of 6-1 with Lopez dissenting.