Injured rider assisted by rancher over Memorial Day weekend
By Curtis Riggs | June 11, 2008
CAVE CREEK – Rural Metro paramedics used a rancher's pickup to get to an injured horseback rider on the Tonto National Forest over Memorial Day weekend.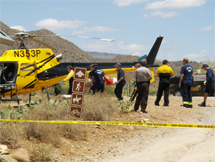 The woman was bucked off while riding on the Spur Cross Trail just above Spur Cross Ranch. The old road into the Tonto is too rough for fire trucks to safely drive on, so the paramedics used the truck to go up and get the injured rider and bring her back down where she was life-flighted out to an area hospital. The helicopter landed at the Spur Cross Ranch picnic area just inside the Spur Cross gate.

"If they can't land the helicopter and we have vehicle access sometimes we just do that," Rural Metro District Chief John Kraetz said about paramedics improvising to bring the injured rider to safety.

The rider was treated for head injuries received in the accident.