Boys, 5th place at Horizon; "GDS" here; Gals head west
By Pete Mohr | December 24, 2008
CSHS - Tournament competition doesn't count in A.I.A. power point calculations, but Head Coaches Dirk Walker and Ryan Pletnick place high value on the experience and sharpness gained as the regular season gets into full swing following Holiday Break.

Boys went 2-1 at the December 18-20 MidFirst Bank Horizon Invitational, capturing 5th place with an 86-63 wire-to-wire win over 5A-II Deer Valley in the Consolation finals. P.J. Ubides and J.J. Miller, both in double figures, paced the Falcon scoring. Ubides was selected to the All-Tournament Team.

In their opener against host Horizon, the Falcs got off to a miserable 9-29 1st quarter, trailed 33-50 at the half, then got it together in the 2nd half to fall by a respectable 72-84. Tri-Captain Andrew Stauth (15) and Ubides (14, three "threes") were top scorers for the Falcons.

Bounced into the Consolation bracket, the Falcons got off to yet another slow start against Centennial, trailing by 14 in the 2nd period before Tri-Captain Brock Fredeiksen's three "treys" sparked a 30-5 run that put CSHS in front to stay. In the 92-75 win, Frederiksen (15), Tri-Captain Elijah Knox (14), Ubides (13) and Stauth (12) were in double figures.
Coach Walker: "In the 2nd period, we finally played with more energy on defense and showed quicker ball movement. That's what gets our offense going."

In the annual "Great Desert Shootout" which starts Saturday, Dec. 27, the hosting Falcons will open against Higley at 2:30 pm, Barrett Gym. If they beat the Knights, the 'Birds will play the Dysart-La Joya winner at 8:30 pm, same gym.

Saturday, Dec. 27, Head Coach Ryan Pletnick will take his 7-0 Lady Falcons to Centennial's "Coyote Classic." First up is Moon Valley in a 9:30 a.m. (yawn!) eye-opener. At 2 p.m. the LadyBirds should be more than tested by the revenge-minded Thunderbird Lady Chiefs, whom the FalconGals decisively upset (at Thunderbird) in the 2008 State Quarters. Coach Pletnick's terse evaluation to Sonoran News: "We've got to get by Thunderbird."

Girls will return to Barrett Gym, Tuesday. Jan. 6, against tough Regional foe, McClintock.
Carey Riner's last-play dash wins 'Puff for Sr/Fr
By Pete Mohr | December 24, 2008
FALCON STADIUM – When the goin' got tough, our gals got goin'! Senior Carey Riner's last-play quarterback keeper gave her squad a 21-14 heart-stopping victory over the Juniors/Sophomores in the Nov. 11 renewal of the "Powderpuff Football Classic." Losing mentors Connor Dubin & Ryan Arsenault groused, "We got 'jobbed' by the clock!"

Congratulations to CSHS Student Council and advisors Cameron Bender & Allison Zilka for bringing back a terrific "Falcon Spirit" event. What a fun prelude to the Holiday Break!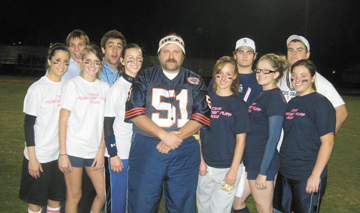 Ready to Rumble! Photographed before the coin toss (front, l-r) Shelby Norris (SO), Marissa Navarro (JR), Elyssa Hartsock (SO), Head Referee Dick Butkus (uh, make that Jim Marando), Seniors Kirsten Cook, Carey Riner, Kilee Ferguson; (back, l-r) JR-SO Coaches Ryan Arsenault & Connor Dubin, SR Coaches Austin Stephens & Kenny Prodan.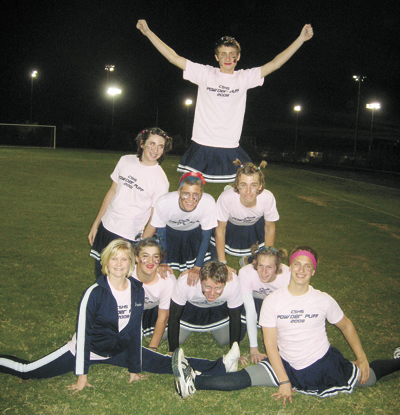 A "guy" pyramid: (bottom, l-r) Cheer "Coach" Jacqueline Prochut (JR), Kevin Hildebrandt (SR), Victor Gutierrez (SO), Tyler Scheven (SR), Andrew Kezele (SR); (middle, l-r) Alex Powers (JR), Ben Cresswell (SR), Marko Pecic (JR); (top, exulting!) Franco Marzella (SR). Sorry, fellas, but you're no threat to CSHS Cheer, Head Coach Rika Cuff's "three-peat" State Champs!